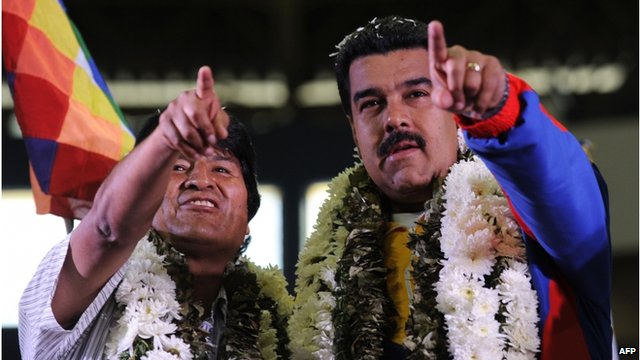 Go to original article for video.
(above) President Evo Morales (L): "If necessary, we will close the US embassy"

Bolivia 'could close' US embassy after plane incident
July 5, 2013 - BBC
President Evo Morales has threatened to close the US embassy in Bolivia after his official plane was banned from European airspace.
The warning came as four other South American leaders offered him support at a special summit on Thursday.
His plane was forced to land in Austria on Tuesday after France, Portugal, Italy and Spain apparently barred it from flying through their airspace.
There were unfounded suspicions that US fugitive Edward Snowden was on board.
The Bolivian president blamed Washington for pressurising European countries into refusing him passage.
"My hand would not tremble to close the US embassy," Mr Morales said.
"We have dignity, sovereignty. Without America, we are better off politically and democratically."
'No reason to apologise'
His presidential jet was rerouted as he travelled from a meeting in Russia where he had suggested he would be willing to consider an asylum application from Mr Snowden.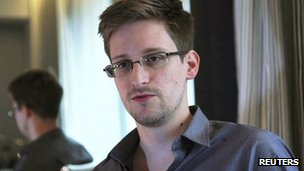 (right) Edward Snowden is wanted in the US on espionage charges

The former CIA contractor is believed to be holed up at the transit area of Moscow airport after leaking details of a vast US surveillance programme.
Mr Morales was joined by the presidents of Argentina, Uruguay, Ecuador, Venezuela and Suriname at a meeting to discuss the plane dispute in the Bolivian city of Cochabamba on Thursday.
The leaders issued a statement after the meeting demanding an explanation from France, Portugal, Italy and Spain over their actions.
The US was not mentioned in the statement, but several of the leaders criticised the Americans in comments after the meeting.
"If this had happened to the president of the United States, it probably would have been grounds for war," said Ecuadorean President Rafael Correa.
"They think they can attack, crush, destroy international law."
Spanish Foreign Minister Jose Manuel Garcia-Margallo said in a TV interview on Friday that Madrid had "no reason to apologise".
He said airspace was never closed to Mr Morales' plane, but that the delay in Austria meant the flight permit had expired and had to be renewed.
He also said in reference to Mr Snowden: "They told us he was inside [the plane]."
Mr Garcia-Margallo's comment is the first official recognition by the European states that the incident with Mr Morales' plane was connected with the Snowden affair.
However, he did not say who had given the information to the Spanish authorities.
France earlier apologised for the plane incident, blaming it on "conflicting information".
The US state department has not commented directly on the latest claims, saying only that Washington had "been in touch with a broad range of countries" over the Snowden case.
Demonstrators marched on the French embassy in La Paz on Wednesday, burning the French flag and demanding the expulsion of the ambassador to Bolivia.
Mr Morales' plane took off from Vienna on Wednesday morning and arrived back in La Paz on Wednesday night.