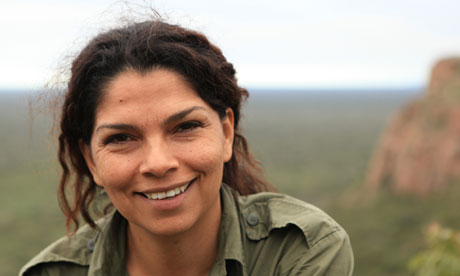 (above) Biologist Erika Cuéllar says that unless the indigenous inhabitants are involved it will be impossible to save the biodiversity of the Gran Chaco. Photograph: Dan Collyns
Bolivia's indigenous people join fight to save Gran Chaco wilderness
July 8, 2013 - Guardian
Second largest wilderness in South America threatened by farming, ranching and drugs trade

Dan Collyns in the Gran Chaco, Bolivia
Only from Cerro Colorado – a rocky outcrop that rears vertiginously over the treetops – is it possible to make out the vastness of the Gran Chaco as it stretches from this corner of Bolivia beyond the horizon into Paraguay. This enormous swath of dry forest and scrubland, where every plant or tree bears thorns, is South America's second largest wilderness after the Amazon rainforest.
The Gran Chaco is threatened on all sides: Mennonite cattle ranchers have bought up large tracts in Paraguay and Brazilian farmers looking for cheap land for their soy crops have flooded across the border.
The quarter of it that lies in Bolivia is the best preserved, but even its habitats have been disrupted by a gas pipeline and military operations against drug traffickers, whose camps have been spotted in the 34,000 sq km (13,000 sq miles) of Kaa-Iya del Gran Chaco national park. Bigger than Belgium, it is Bolivia's largest national park.
Erika Cuéllar, a Bolivian conservation biologist with an Oxford doctorate, is training the indigenous people of this expanse of dry forest totalling 1m sq km how to work as field biologists, giving them the means to make a living – and a stake in the rich biodiversity of the continent's second biggest ecosystem.
Cuéllar's vision is to turn young people from the Chaco's three main indigenous groups – the Guaraní, Ayoreo and Chiquitano – into what she calls parabiologists. A parabiologist is akin to a paramedic, who can save lives but does not have the years of training of a medical doctor, she explained.
"These people are a part of the natural environment; they belong to this land. If they are not involved, I don't see how we can achieve the long-term conservation of the biodiversity of this area," she said, as she led a dozen trainees from Bolivia, Paraguay and Argentina on a dawn survey of animal tracks.
Few people are adapted to the Chaco's 45C (113F) summer temperatures, freezing nights in the winter, lack of water and biting insects. Yet despite its aridity, the Chaco is home to more than 3,400 plant species, 500 species of birds and 150 mammal species including jaguars, pumas, peccaries, giant anteaters and even eight different types of armadillo ranging in size from 300g to 30kg.
"[The indigenous inhabitants] are the best people to tell you what is going on in the Chaco. I want to give them the option to stay in the area they know," said Cuéllar, who is half-Guaraní.
She explained that many were forced to take work on sugar plantations earning as little as 16 bolivianos (£1.50) for a tonne of cut and cleaned cane.
Communities in the Chaco nominate participants for the 400-hour course of modules from basic biology to mathematics. The students earn a formal certificate for learning how to use GPS, design research projects, collect data and present results.
"The idea of empowering and involving local people in conservation attracted attention," said Cuéllar, who in 2012 was awarded 100,000 Swiss francs (£69,000) under the Rolex award for enterprise. In 2001, she was successful in pushing through a ban on hunting guanacos, the wild ancestor of the llama, of which about 200 survive in the Chaco.
Cuéllar believes the parabiologist model can work in other Latin American countries with areas of rich biodiversity and indigenous populations. She is a familiar face in the Guaraní villages near the Kaa-Iya national park, where the nasal, sing-song tones of the native tongue predominate over Spanish.
One of the motives for protecting the huge area was evidence of uncontacted indigenous Ayoreo families living in the heart of the Chaco. It is the only place in South America outside the Amazon where uncontacted indigenous people still live.
"As an indigenous Guaraní, being a parabiologist has helped me to protect my community," said Jorge Segundo, 40, a village leader and the most experienced of Cuéllar's 17 parabiologists.
Segundo's monthly wage of 3,500 bolivianos – handsome by local standards – has given him a stake in the Chaco's biodiversity, which supports a string of communities that hunt sustainably.
But despite her string of international awards, Cuéllar said conservation was not a priority for the government of President Evo Morales, which had shown no interest in supporting her efforts. "I can work for my entire life trying to protect the Chaco but only someone with political power can really protect this land," she said.