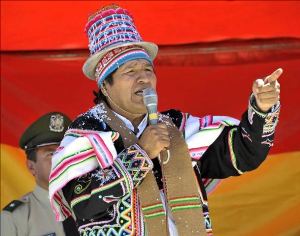 Mercosur Members Recall Envoys to Protest Europe's Treatment of Bolivia's Morales
July 14, 2013 - Latin American Herald Tribune

MONTEVIDEO – The countries of South America's Mercosur trade bloc agreed Friday to call home for consultation their ambassadors to Spain, France, Italy and Portugal to protest last week's forced diversion of the Bolivian president's aircraft.

The decision was taken by Argentine President Cristina Fernandez, Brazilian President Dilma Rousseff, President Nicolas Maduro of Venezuela, and Uruguay's President Jose Mujica, as well as Bolivia's Evo Morales, whose country is in the process of joining the bloc at the Mercosur Summit in Montevideo.

The countries expressed total condemnation for the "actions of the governments of France, Portugal, Spain and Italy" in barring Morales' plane from their airspace as he was returning to Bolivia after attending a conference in Moscow.

The European countries' conduct was "a flagrant violation of the precepts of international law," Mercosur said in a resolution announced by Uruguayan Foreign Minister Luis Almagro.

Morales' aircraft spent 13 hours on the ground in Vienna as Austrian officials searched the plane for former U.S. intelligence contractor Edward Snowden, who has released documents exposing Washington's pervasive surveillance of global telephonic and Internet communications, and has been stuck in the transit area of Moscow's Sheremetyevo International Airport since June 23.

The diversion to Vienna came after several European countries ordered Morales' plane away from their airspace, apparently suspecting that Snowden was on board.

The European governments tried to explain their position by saying it was all a "misunderstanding."