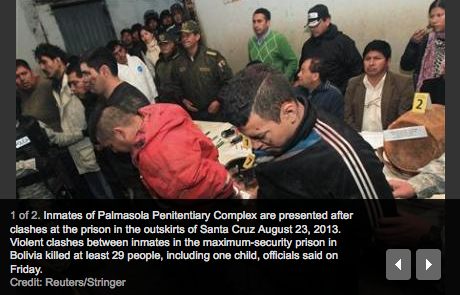 Bolivia prison violence kills 29, including one child
August 23, 2013 - Reuters
LA PAZ -- (Reuters) - Violent clashes between inmates in a maximum-security prison in Bolivia killed at least 29 people, including one child, officials said on Friday.
Children live intermingled with prisoners in the Palmasola Penitentiary Complex outside Santa Cruz, Bolivia's biggest city.
An explosion and the sound of gunfire broke out early in the morning as prisoners from rival cell blocks fought for control of part of Palmasola, an inmate told news website El Deber.
Flames severely injured 35 people, who were evacuated to hospitals, according to officials' latest report.