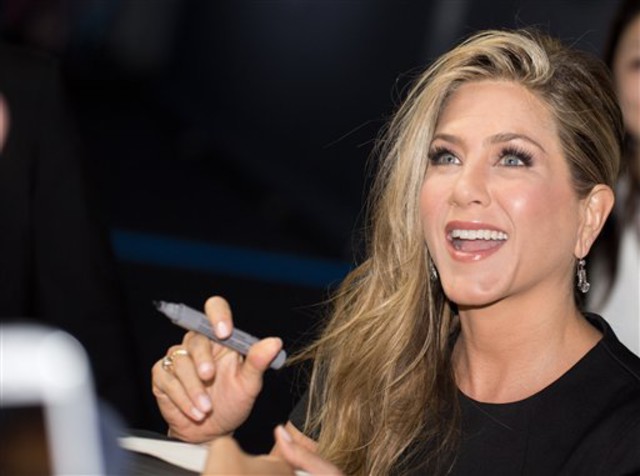 (above) American actress Jennifer Aniston arrives for the German premiere of the movie "We're the Millers" at Cinestar at Potsdamer Platz in Berlin, Germany, 15 August 2013.
Photo by: Jörg Carstensen/picture-alliance/dpa/AP Images
Aniston's Salad Isn't Enough as Quinoa Farmers Reap Golden Crop
September 12, 2013 - Bloomberg
By Sandrine Rastello
Bolivian farmer Rafael Garcia is living larger thanks to one of Jennifer Aniston's favorite salad ingredients.
"We sleep in good beds. We eat good food," said Garcia, who heads an alliance of 37 producers of a crop called quinoa in the western Oruro region. "We now have bikes and motorcycles while we used to go everywhere by foot."

(below) Workers harvest quinoa plants in Challapata, Bolivia. Photographer: Lisa Wiltse/Bloomberg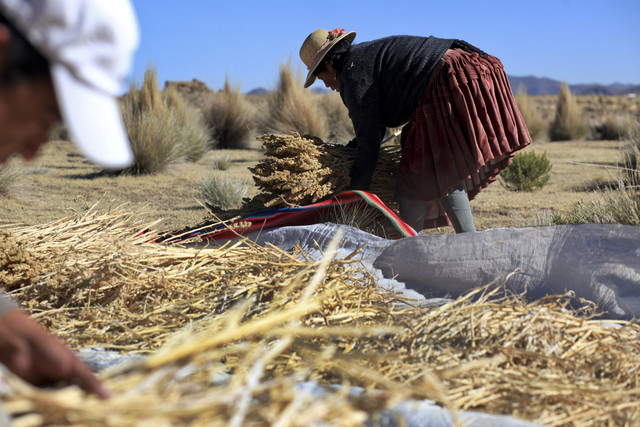 (below) A worker displays harvested quinoa seeds in Challapata, Bolivia. Thousands of miles from celebrities and chefs who tout the health benefits of quinoa, sales are lifting the fortunes of Andean farmers who've grown it for centuries mostly for subsistence. Photographer: Lisa Wiltse/Bloomberg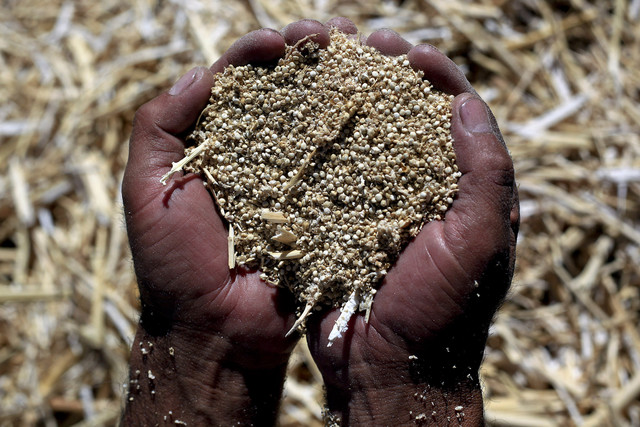 (below) Workers process harvested quinoa seeds at a factory in Challapata, Bolivia. Photographer: Lisa Wiltse/Bloomberg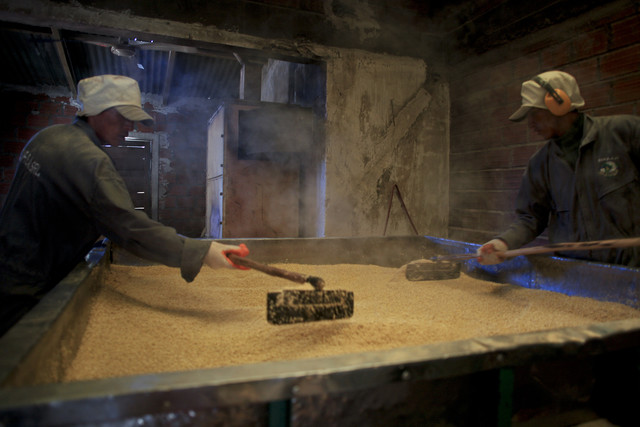 (below) Bolivian farmer Rafael Garcia stands at the Rural Alliance Fair in Cliza, Bolivia on July 6, 2013. Photographer: Dominic Chavez/World Bank via Bloomberg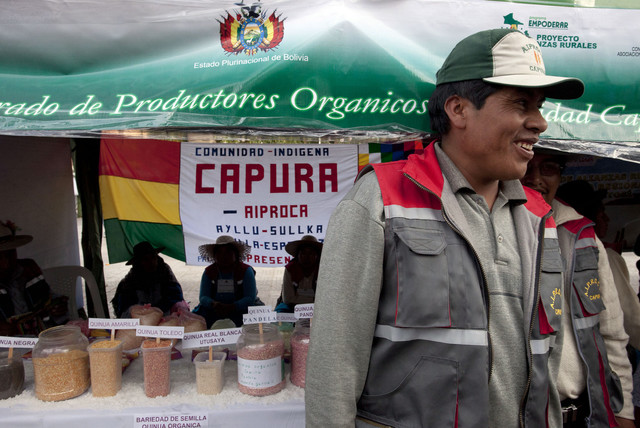 Thousands of miles from celebrities and chefs who tout the health benefits of quinoa -- a seed packed with protein and fiber -- sales are lifting the fortunes of Andean farmers who've grown it for centuries mostly for subsistence. Governments of Peru and Bolivia, which still dominate the $123 million export market, are hoping the trend can last as prices that have doubled to about $3,000 a metric ton since 2007 attract better capitalized competitors.
The challenge for quinoa producers goes beyond increasing supplies. Farmers will also need a broader consumer base for a dish that's so far popular mostly with vegetarians and gluten-free aficionados. The United Nations, which is betting the food can help end global hunger, declared 2013 "International Year of Quinoa" in a bid to transform a diet fad into another staple of the world's food basket.
"It will have difficult times getting there," said Harry Balzer, vice president of NPD Group Inc., a market-research firm in Port Washington, New York, that tracks Americans' eating patterns. "Is quinoa my new starch, is quinoa my new flour? This is the real issue with quinoa: What is it?"
Niche Market
While the U.S. is the largest importer of quinoa, only 1 percent of consumers eat it during an average two-week period, according to Balzer, who gave it a category in his daily surveys about two years ago.
A member of the plant family that includes sugarbeets and spinach and cooked as a grain substitute, quinoa appeals to consumers in rich countries who want more nutritious properties compared with those in wheat or rice. The health benefits come with a higher retail price.
At a Whole Foods Market in Washington recently, a pound of dry quinoa -- pronounced 'keen-wah' -- cost $4.49 to $7.99 depending on the color, while the same amount of brown rice went for $1.99, corn grits fetched $1.49 and bulgur wheat was $2.49.
Exports, totaling about 40,000 tons last year, have been a windfall for Bolivian and Peruvian farmers. Less fortunate are locals who may not be able to afford the local staple anymore, though a lack of data makes it impossible to gauge the net welfare impact, according to Marc Bellemare, an assistant professor in the applied economics department at the University of Minnesota, in St. Paul.
Financing Farmers
High prices are also putting pressure on the governments of these countries to improve infrastructure and financing for growers, said Jose Cuesta, an economist with the World Bank, which helps the Bolivian government fund investments for organized farmers.
"The key is making sure these subsistence farmers have access to markets," he said.
Both nations say they have plans to capitalize on what they call the "golden grain." Bolivia wants to multiply the area of its quinoa fields tenfold, from about 269,000 acres (109,000 hectares), agriculture minister Nemesia Achacollo said in an interview.
Her Peruvian counterpart, Milton Von Hesse, wants to develop conventional production at sea-level while keeping organic output in the highlands.
"This way, we maintain the high-value market for the poorest zones and the commodities market for the coast's corporate agriculture," he said in an interview.
Health Benefits
Garcia, the Bolivian farmer, likes quinoa in soups, with meat or ground up as a base for bread or pizza. Aniston, the actress, mixes it with cucumber, tomato and avocado, according to "Loukoumi's Celebrity Cookbook" by Nick Katsoris. Brendan McHale, executive chef of New York-based Tasting Table, cooks it and dehydrates it until it pops before spreading it over fish.
On the plate, quinoa resembles couscous. In the field, it grows in spikes that look like feather dusters in colors from cream to purple, producing seeds that contain three times more iron than wheat and help reduce bad cholesterol, according to the UN.
Such characteristics drove Jason Abbott, who grew up in Etowah, Tennessee, and now calls France's Loire Valley his home, to start growing quinoa, which he had been feeding his gluten-intolerant daughter.
New Buyers
He enlisted about 30 local farmers from a local cooperative accustomed to growing wheat, and together they produce about 300 tons a year. The group recently started to market its crop and got two large buyers interested in diversifying their supply.
Farmers in the U.S. have made some attempts to grow it, though soils and rainfall haven't cooperated, the University of Minnesota's Bellemare said. Other producing countries include Canada and Australia, according to the UN Food and Agriculture Organization, which has a $2.9 million promotional plan to raise awareness internationally for the product.
Matt Matros, founder of the healthy fast-food chain called Protein Bar, has looked for cheaper suppliers. The quality of Andes-grown quinoa makes it the only option for the chicken pesto bowls or the burritos he serves with quinoa instead of rice. Each of his 12 restaurants in the Chicago and Washington areas uses as much as 100 pounds (45 kilos) of the seeds per week.
"The South American product is more voluminous, fluffier," he said in a phone interview.
Different Varieties
Those attributes will help distinguish Bolivian quinoa from the competition, said Paola Mejia, the manager of the Bolivian Chamber of Royal Quinoa and Organic Products Exporters, which is seeking international certification for the seed grown by the country's 12,000 farmers.
"There are different sorts of quinoa and the world is going to ask for different quality types," she said in a phone interview.
It's not clear the world will keep asking, according to Bellemare. "To say, 'Let's make this the next big thing,' maybe Madison Avenue would be able to do that. I honestly doubt the FAO has the marketing firepower," he said.
In the U.S., quinoa's transition from a health food to a menu mainstay is in its infancy.
In June, Battle Creek, Michigan-based Kellogg Co. (K), the world's largest cereal maker, said red quinoa would be part of its Kashi brand of chicken-noodle soup. The same month, Starbucks Corp. (SBUX), the world's largest coffee-shop operator, introduced salad bowls containing it.
Still, a television commercial debuting in the U.S. this month for Anheuser-Busch InBev NV (ABI)'s Bud Light beer illustrates both the strides quinoa has made cracking into the mainstream and the hurdles that remain.
A National Football League fan barbecuing before a game reluctantly throws on his grill a frozen quinoa burger that his female companion brought, saying it tastes like a "dirty old tree branch" and calling the yellow disc "queen-oh" as a friend wonders if it's a facial scrubber.
To contact the reporter on this story: Sandrine Rastello in Washington at srastello@bloomberg.net