(above) President Barack Obama shakes hands with Venezuela's President Hugo Chavez before the opening session of the 5th Summit of the Americas in Port of Spain, Trinidad and Tobago, in 2009. Venezuela's Vice President Nicolas Maduro announced on Tuesday that Chavez had died. (source: Mariamma Kambon/Summit of the Americas/Pool/AP/File)

The Christian Science Monitor - CSMonitor.com
Hugo Chavez legacy: a wedge between US, Latin America (+video)
March 5, 2013 - Christian Science Monitor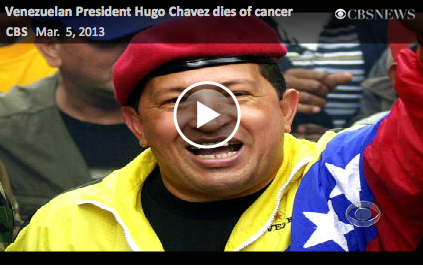 (Video: go to original article, scroll down to video)
Venezuela President Hugo Chavez, who died Tuesday, made it his mission to sway Latin American leaders away from the US and toward his brand of populist socialism. Chavez made strides, but his influence in the region had been waning.


By Howard LaFranchi, Staff writer Washington
In December 1994, Miami and the Clinton administration hosted the first Summit of the Americas, an event that drew the leaders of every country from Canada to Chile but Cuba. It was perhaps the zenith of the quest to cast the Western Hemisphere in Washington's image, with a vast, Arctic-to-Tierra-del-Fuego free-trade area among market economies that banished populism and ostracized Cuba as the lone vestige of a bygone socialism.
Enter Hugo Chávez, a red-bereted, self-described Bolivarean revolutionary – after the George Washington of South America, Simón Bolívar – preaching a very different vision to a struggling but oil-rich Venezuela. Mr. Chávez's model of socialist populism struck a chord that reverberated well beyond Venezuela – and that sounded the death knell of the thinking, more than a century old, that Latin America had no option but to follow Washington's lead.
Chávez died Tuesday after a long illness that, in recent months, silenced the usually vituperative, blustery, even outrageous leader. He leaves a Latin America much changed from the one he encountered when he first took office as Venezuela's president in 1999.
The change is not so much because Latin America adopted the model Chávez espoused, but rather because Chávez made it his project to persuade others – in part by handing out vast amounts of his country's oil revenues – that alternatives to Washington's economic and political vision were possible.
"I don't think it can be overstated how he fundamentally changed relations not just between the US and Venezuela, but how he did the same with US-Latin America relations," says Eric Farnsworth, vice president of the Council of the Americas and the Americas Society in Washington. "Chávez put meat on the bones of the basic message he spread, which was that there is an alternative for development, [and] you don't have to follow the example and dictates of the United States."
News of Chávez's death came the same day the Venezuelan government, increasingly agitated by the president's worsening condition, accused "imperialist" enemies – specifically the United States – of having infected the president with cancer. The man Chavez designated to succeed him, Vice President Nicolas Maduro, claimed on national television that officials at the US Embassy in Caracas had been involved in conspiracies with Venezuelan military officials to undermine the government and had been expelled.
The US quickly rejected the allegations against US officials, saying such "fallacious" accusations would make improved relations between the two countries more difficult.
"An assertion that the United States was somehow involved in causing President Chávez's illness is absurd, and we definitively reject it," said State Department spokesman Patrick Ventrell, in a statement. "We completely reject the Venezuelan government's claim that the United States is involved in any type of conspiracy to destabilize the Venezuelan government."
During his years at the helm of Venezuela, Chávez made the pursuit of alternatives to Washington's vision possible in two key ways, argues Mr. Farnsworth.
First, "he put his money where his mouth was," he says, noting that Chávez used Venezuela's oil largess to rescue the communist regime of his mentor, Fidel Castro, and to allow other small Latin American countries to discount Washington and its wishes. Chávez, Farnsworth says, "made the fashionable feasible."
Latin leftists certainly predated Chávez, but the economic limitations of their policies eventually clipped their wings: Mr. Castro is the poster boy for that retrenchment from regional dreams. But Chávez, sitting atop what are now considered to be the world's largest oil reserves, used oil revenues in the service of his vision – even as the Venezuelan economy and the nation's living conditions suffered.
"Previous to Chávez, what would a country like Ecuador do, or Nicaragua?" Farnsworth says. Chávez's petroleum diplomacy "allowed them to chart a different course."
Second, Farnsworth says, Chavez's "outrageousness" – taking the United Nations stage to label President George W. Bush "the devil," or striking up a strategic partnership with Iran – gave other Latin countries the "political cover" to do things that were "not nearly as outrageous" but that nevertheless charted new, non-US-centric directions. Examples include developing strong trade ties with countries other than the US – Japan or China, for example – and opposing Washington on the war in Iraq.
Venezuela's oil sales to China have soared, and Chávez signed a $40 billion loan agreement with Beijing that cements China's access to Venezuelan oil. More worrying still to Washington was how Chávez offered Iran a portal into the hemisphere – and the opening that could provide to a Tehran already embroiled in a covert war with the US.
Chávez's ties with other anti-Western leaders who balked at dominance by the world's big powers – Iran's Mahmoud Ahmadinejad, Syria's Bashar al-Assad, even Libya's Muammar Qaddafi – certainly rubbed Washington the wrong way. But what set Chávez apart was his determination to undermine US influence throughout Latin America and to enlist others to create a united front to that end.
"The rise of Hugo Chávez recast the search for regional integration," says Miguel Tinker Salas, a professor of Latin American studies and a Venezuela specialist at Pomona College in Claremont, Calif. With Chávez rocking the boat, the Miami Summit of the Americas' vision of a hemispheric free-trade area faltered, and regional attempts at unity, with no US presence, arose.
"Concentrating the new efforts at economic union and political unity on Latin America diminishes the power of the US in the region, and diminishes the relevance of [Washington-based] institutions like the OAS [Organization of American States]," Professor Tinker Salas says. New collective organizations such as Mercosur, UNASUR, and even ALBA, Chávez's "Bolivarian Alliance for the Americas," sprang up. Chávez was "a central figure in that," he says.
But it's also true that he reached the peak of his influence a few years ago, experts say – probably when George W. Bush was still president. Since then, Chávez's model of political and economic development for Venezuela has lost much luster.
Moreover, despite his vision of regional unity, Chávez was a divisive figure in his own neighborhood, never overcoming testy relations with next-door neighbor Colombia, whose FARC guerrilla fighters he championed.
To illustrate how Chávez's image had tarnished in recent years, some Latin American analysts cite the case of Peru's president, Ollanta Humala. When Mr. Humala first ran for the job in 2006, he touted his kinship with Chávez – both leftist former army officers – at every turn. He presented himself as the anti-capitalist who would emulate the populism of Chávez and other Latin leftists. He lost that race, but ran again and won in 2011, this time eschewing any admiration for the Chávez model.
Since Humala's election, Peru has enjoyed accelerated economic growth and has moved to join Brazil, Chile, Mexico, and others in combining growth with social improvements without resorting to Chávez's populism or to his antidemocratic concentration of power.
"What the Latin America of the past few years demonstrates is that you don't have to be a militant populist who is anti-American to accomplish social change and govern with a social conscience," Farnsworth says.
With Chávez's death, the question for Venezuela and Latin America becomes, "Will there be Chavismo without Chávez?" says Tinker Salas.
For Venezuela, the short-term answer appears to be yes. In elections for state governors in December, Chavista candidates – several of them leftist former military officers like Chávez – trounced the opposition.
Latin America, on the other hand, has already largely moved on from Chávez, though a few leftist populist states still depend on Chávez largess. Even so, strains of Chávez's anti-imperialist, region-centric doctrine and his socialist rhetoric are heard in the region's new responses to global and economic challenges, some experts say.
Chávez sits with Fidel Castro and "the sainted Che Guevara" in touching "a chord in Latin America that is there," says Charles Shapiro, a former US ambassador to Venezuela who is now director of the Institute of the Americas in San Diego.
But these days, Mr. Shapiro adds, a stronger chord than Chávez's is being struck by Brazil, Chile, Colombia, Peru, Mexico and other countries that are not just talking about poverty, but reducing it.