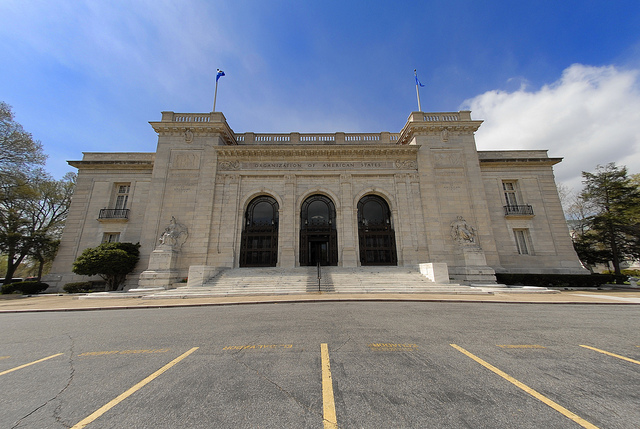 (above) Organization of American States headquarters in Washington D.C., United States. Photo by Juan Manuel Herrera / OAS.

Bolivia paves way for maritime case against Chile
April 12, 2013 - SantiagoTimes
Written by Charlotte Karrlsson-Willis
The Bolivian government seeks to amend an agreement with the Organization of American States to prepare for legal action against Chile at The Hague.

Bolivia retracted its reservations to a fundamental peace treaty at the Organization of American States (OAS) on Wednesday, a step that will allow the Bolivian government to bring a centuries-old maritime case against Chile to the International Court of Justice (ICJ) this month.

Diego Pary Rodríguez, Bolivia's ambassador to the OAS, submitted documents on behalf of President Evo Morales to repeal the country's reservation to the American Treaty on Pacific Settlement- Pact of Bogotá, first drafted in 1948. The treaty deals with peaceful settlement of disagreements between member states.

The specific reservation is attached to article VI, which states that agreements reached before 1948 are not regulated by the treaty.

The official reservation said that Bolivia, "considers that pacific procedures may also be applied to controversies arising from matters settled by arrangement between the Parties, when the said arrangement affects the vital interests of a state."

Repealing this reservation allows Bolivia to bring its case to the ICJ without complicating its stance at the OAS or requiring it to use OAS procedures to settle the matter.

In conjunction with the repeal the Bolivian ambassador notified the OAS that his government will be submitting a "report regarding Bolivia's maritime issue since this topic is of interest and is a hemispheric concern" ahead of the next OAS meeting in June.

Bolivian President Evo Morales announced Tuesday that his government is prepared to submit the maritime case against Chile to The Hague.

The case dates to the War of the Pacific, in which Chile officially took sovereignty over the Calama Region via a peace treaty signed by both countries in 1904. The loss cost Bolivia almost 250 miles of coastline, rendering it a landlocked country. Morales has made regaining that sovereign access to the sea a central focus of his presidency.

By Charlotte Karrlsson-Willis (kwillis@santiagotimes.cl)
Copyright 2013 - Santiago Times