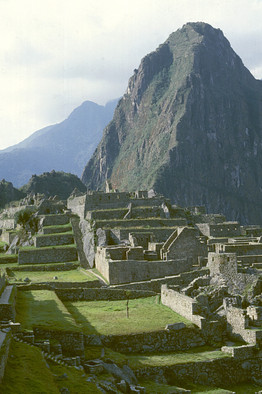 (above) View of Machu Picchu the ancient Inca city
built in the 15th century. (1982) Source: Everett
In Peru, 'Tomb Raider' Is Not a Game
April 5, 2013 - Wall Street Journal Blogs
By Robert Kozak

Peru's government says that a California-based on-line auction house is trying to sell 21 pre-Hispanic objects that are part of Peru's cultural heritage. But it adds that another 12 supposed pre-Hispanic pieces also on sale are in fact fakes.
The auction by a company known as Ancient Resources is scheduled to take place this month. The company web-page offers a number of artifacts from Peru for sale, including a silver mirror, a necklace, and pottery. Peru's Culture Ministry says it wants the real items back, although it doesn't say which ones are real and which are replicas.
"I have reviewed the Peruvian demand letter and have no reason to believe that the artifacts were improperly exported or imported," said Gabriel Vandervort, owner of Ancient Resource, LLC, in an email.
He added that the government's claims that some of the artifacts are false "is an accusation pulled out of thin air."
Peru wasn't able to stop the recent sale of Pre-Columbian pieces of art auctioned by Sotheby's BID -0.81% (BID) in Paris, which the government said were taken out of Peru without proper permission decades ago.
Tomb robbing has been widespread for years in Peru, despite an 1822 regulation that prohibits the removing of archaeological goods without government authorization.

Peru's government had better luck dealing with Yale University, which in November last year returned a final batch of thousands of artifacts taken from the ancient Inca citadel of Machu Picchu.