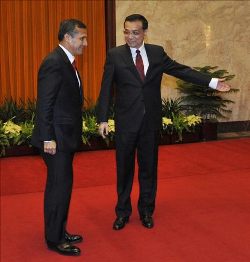 Humala Wraps Up First Official Visit to China
April 10, 2013 - Latin American Herald Tribune

SHANGHAI – Peruvian President Ollanta Humala on Tuesday wrapped up his first official visit to China in Shanghai, the country's economic capital, where he presided at an investment forum attended by executives from more than 100 companies.

"Since 2011, China has become Peru's No. 1 trade partner, and this has allowed us in just a few years to double the portfolio of (Chinese) investments" in the Andean country, which has tripled its GDP in the last decade, Humala said Tuesday.

"However, nowadays this economic growth demands of us a series of services, infrastructure and projects in general, and so we're working, from the standpoint of the government, making public investments and generating conditions for there to be private investment," he added.

With that objective in mind, Humala did not make his first official trip to Asia accompanied by Peruvian businessmen, but rather in the company of Energy and Mines Minister Jorge Merino, Transportation and Communications Minister Carlos Paredes and Agriculture Minister Milton von Hesse.

The main achievement of the Peruvian delegation in China was the signing of a bilateral "comprehensive strategic agreement," Merino told Efe.

"Just in mining, there is already $13 billion of (Chinese) investment in different projects, and there are new projects to be developed and new areas to explore" in which Chinese participation is welcomed, the minister said.

"At this time, China has 23 percent of the portfolio of (Peruvian mining) projects, and we're hoping that they can increase it, so that, with a vision of cooperative development, mining can also bring projects in energy, infrastructure, (public transport) and railroads," Merino said.

Humala on Wednesday will continue his Asia tour, which will take him to South Korea and Japan.