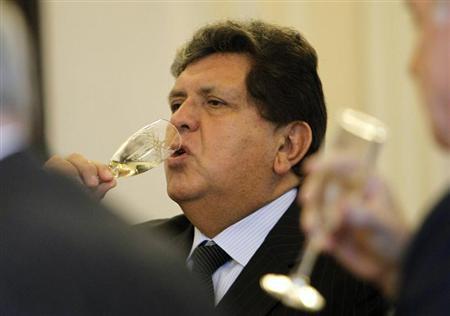 (above) Alan Garcia toasts with ministers during his last cabinet meeting at the government palace in Lima, July 27, 2011. Credit: Reuters/Mariana Bazo

Peru's former leader Garcia's political life at risk over pardons
April 18, 2013 - Reuters
By Marco Aquino
LIMA (Reuters) - Two-time president Alan Garcia could be barred from running in Peru's next election as Congress investigates him for freeing thousands of drug dealers from prison during his last term.
A congressional commission probing Garcia's 2006-2011 administration has evidence of corruption and may recommend a vote to strip the centrist Garcia of his political rights for years, said Sergio Tejada, a lawmaker from President Ollanta Humala's leftist party who heads the committee.
Congress has the power to sanction Garcia, 63, without using the courts, but the vote would not be held for at least three months and it is too soon to know if it would pass.
Towering and hefty, Garcia has played an outsized role in Peruvian politics for nearly three decades and disqualifying him would help Humala's charismatic wife, Nadine Heredia, if she runs for president in an election in 2016.
Peru's constitution bars presidents from holding office for two consecutive terms, and Heredia is widely expected to seek the presidency in 2016 when her husband cannot. She is believed to have presidential ambitions, despite her denials.
A vote knocking Garcia out of the running would also help the chances of centrist former President Alejandro Toledo and lawmaker Keiko Fujimori.
Fujimori's father, former President Alberto Fujimori, is in jail for corruption and human rights crimes stemming from his crackdown on leftist rebels in the 1990s.
During Garcia's most recent term when he signed an average of about three presidential pardons daily, three informants have testified that bribes were paid to high-level officials in exchange for freedom or shorter sentences, Tejada said.
Garcia has denied any wrongdoing but Tejada said about 3,200 of the 5,246 prisoners Garcia pardoned were drug traffickers, and about 400 had been imprisoned on serious charges.
Peru is virtually tied with Colombia as the world's main producer of coca and cocaine.
"We are not just talking about drug mules," said Tejada, who called the inquiry a "Pandora's box" with new evidence surfacing almost every day. This week he extended the deadline for the committee to finish its investigation by three months.
Critics worry that the alleged pay-for-pardons scheme amounted to a catch-and-release program for traffickers that undermines Peru's cooperation with the United States in its war on drugs.
Last week, the newspaper El Comercio reported that Manuel Huaman, a member of Garcia's APRA party, was affiliated with a Mexican drug cartel and had been imprisoned for drug trafficking before working on Garcia's presidential pardons team.
Huaman confirmed to local RPP radio that he had served time for trafficking and that he had worked as a lawyer "filtering" pardon requests for Garcia's administration.
POLITICAL WITCH-HUNT?
Garcia declined to comment, but he told local TV he issued the unusually high number of pardons to ease overcrowding in Peru's prisons, which are notoriously chaotic and underfunded.
Garcia says Tejada's real goal is to ensure the "re-election of the presidential couple" by eliminating Heredia's rivals from the running. "They want to destroy me because they believe I am a political opponent."
A senior Peruvian government official denied the claim.
Garcia was first elected president in 1985 at age 36. Some regard him as one of the Spanish-speaking world's best orators - by turns lyrical, pugnacious, and inspiring.
His popularity sank during his first term in the 1980s because of hyperinflation, interventionist economic policies, and the expansion of a bloody left-wing insurgency.
He made a comeback to win again in 2006, reinventing himself as an advocate of free markets. Peru's economy has grown on average by an impressive 6 percent a year for the past decade.
Garcia has not yet announced a bid for the 2016 election, but he is expected to.
A vote to ban him from politics for allegedly violating Peru's constitution - which lays out that the state must fight drug trafficking - would have a lower burden of proof than pursuing corruption charges against him in court.
It requires the support of two thirds of Peru's 130-member Congress, where Garcia's APRA party only has a few seats.
Lawmakers from Humala's and Toledo's parties would likely back the measure, but would need votes from Fujimori's party.
Garcia, who at times has cooperated with Fujimori's party, has urged Humala to decide on pardoning the ageing former president because he has a cancer-like growth in his mouth.
"The megacommission can take as much time as it wants, but it should not use its work as a political tool to accuse Garcia," Javier Velasquez, a lawmaker who was prime minister under Garcia, told Reuters.
Garcia has overcome previous attempts by opponents to tie him to corruption and he could appeal if Congress disqualifies him from running again.
Activists have unsuccessfully sought to try him for the 1986 massacre of more than 100 rioting prisoners tied to insurgent groups. They say he should be jailed on human rights charges like Fujimori, but an official inquiry was dropped.
(Additional reporting by Mitra Taj.; Editing by Terry Wade, Kieran Murray and Christopher Wilson)