Latin American geoeconomics
A continental divide
May 18, 2013 - Economist
The region is falling in behind two alternative blocks: the market-led Pacific Alliance and the more statist Mercosur
ON MAY 23rd in the Colombian city of Cali the presidents of four Latin American countries—Chile, Colombia, Mexico and Peru—will sign an agreement removing tariffs on 90% of their merchandise trade. They will also agree on a timetable of no more than seven years for eliminating tariffs on the remaining 10%. They have already removed visa requirements for each other's citizens and will proclaim their aspiration to move swiftly towards setting up a common market.
The Pacific Alliance, as the group calls itself, is "the most exciting thing going on in Latin America today", according to Felipe Larraín, Chile's finance minister. Some outsiders think so, too. Costa Rica and Panama want to join; Canada's prime minister, Stephen Harper, and his Spanish counterpart, Mariano Rajoy, have said they will attend the Cali meeting as observers.

Behind the excitement is the sense that the Pacific Alliance is a hard-nosed business deal, rather than the usual gassy rhetoric of Latin American summitry. Under the leftist governments that rule in much of South America, there has been plenty of talk of regional integration, but precious little practice of it. Intra-regional trade makes up just 27% of total trade in South and Central America, compared with 63% in the European Union and 52% in Asia.
The Pacific Alliance aspires to change that. "It is based on affinity, rather than proximity," says José Antonio García Belaunde, a former Peruvian foreign minister who was instrumental in launching the group in 2011. "It's integration with those who are capable of doing it."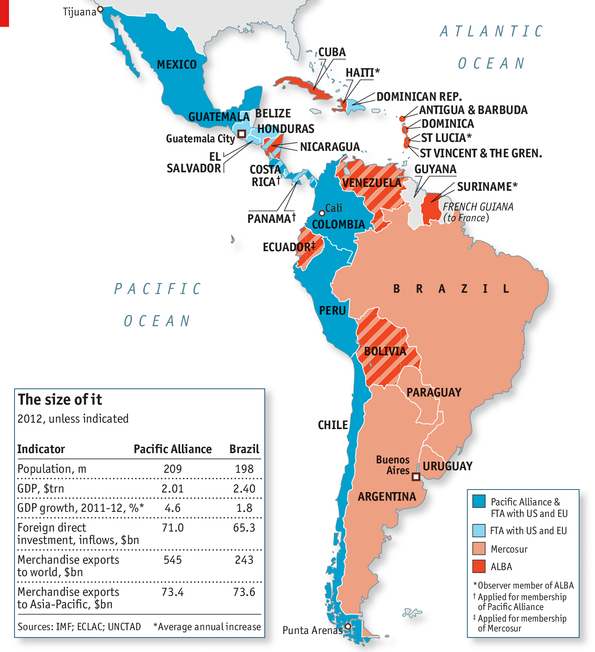 The four founding members are free-market and mainly fast-growing economies which have embraced globalisation, with a web of regional trade-agreements and expanding commercial ties to Asia. Their combined GDP is around $2 trillion—35% of the Latin American total and not much less than that of Brazil, the region's giant (see table).
The private sectors in the member countries have played a big role in setting the Alliance's priorities. The stock exchanges of Chile, Colombia and Peru have created a single regional bourse. Negotiators are working to smooth border procedures and standardise rules, such as on labelling. They are making progress in talks to harmonise the rules of origin—how much local content goods must have to be tariff-free—in their existing trade agreements with each other. "They are trying to resolve the problem of the spaghetti bowl of regional trade-agreements," says Antoni Estevadeordal of the Inter-American Development Bank. This "exercise in regulatory convergence" could be a model for other parts of the world, he adds.
Open regionalism
The Pacific Alliance marks a return to the principles of "open regionalism"—the idea, prevalent in Latin America in the 1990s, that opening up to world trade would be more advantageous if combined with creating a deeper regional market, to reap economies of scale. This idea lay behind the founding in 1991 of Mercosur, a group originally comprising Argentina, Brazil, Paraguay and Uruguay.
But the left-wing governments in charge of those countries for much of the past decade have turned Mercosur into a different kind of enterprise. "Today it is almost wholly a political front" with "protectionist internal tendencies which frequently collide with Mercosur's original principles," according to Luiz Felipe Lampreia, a former foreign minister of Brazil.
This was underlined last year when the other members suspended Paraguay (because of the impeachment of its left-wing president) and admitted Venezuela, then governed by Hugo Chávez. Under Brazil's aegis, much of Chávez's anti-American ALBA block is being absorbed by Mercosur. On May 9th Brazil's president, Dilma Rousseff welcomed Nicolás Maduro, Chávez's chosen successor who was narrowly elected as president last month, and affirmed their "strategic partnership". Brazil is also seeking closer ties with Cuba, which this month offered to send 6,000 doctors to the country.
Brazil's two main regional partners, Argentina and Venezuela, have slow-growing, state-controlled economies, and their policies flirt with autarchy. That makes them captive markets for Brazilian construction companies and exporters of otherwise uncompetitive capital goods. Brazil had a trade surplus of $4 billion with Venezuela last year.
In the wider world, Mercosur has signed regional trade agreements only with Israel, Egypt and the Palestinian Authority. Argentina has stalled a proposed trade deal with the European Union, on which talks began in 1999. Brazil's bet has been on the Doha round of world trade talks. It was cheered when Roberto Azevêdo, a Brazilian diplomat, was chosen this month to head the World Trade Organisation (WTO). But many trade specialists consider the Doha round all but dead and the WTO increasingly irrelevant. In practice, trade policy is "not a priority" for Ms Rousseff's government, which is "very focused on the domestic market", says Welber Barral, a former trade official.
This stance alarms Brazil's opposition and some of its businessmen, who fear that the country has cut itself off from global value chains for manufactured products. "Either Brazil makes up for lost time and reformulates its trade-negotiation strategy, or it will become ever more isolated in the real world of global trade and investment," Rubens Barbosa, a former diplomat and consultant for the São Paulo industrialists' federation, wrote recently.
That is the world in which the Pacific Alliance aspires to a growing role. But the kind of regional supply chains that link China to its neighbours barely exist in Latin America, beyond a few niche businesses, such as some textile products. Mexico has built those links with the United States, but not with its southern neighbours. Creating them involves surmounting vast distances: Tijuana is roughly as far from Punta Arenas as the Shetland Islands are from Cape Town. And transport connections are poor. Mr Estevadeordal sees the Alliance as an incentive to develop the "physical hardware of integration", such as ports and other transport systems.
In its short life, the Pacific Alliance has proved to be a brilliant piece of diplomatic marketing. Now it has to add substance. If it does so, Mercosur may find itself hard put to match the Pacific countries' race to develop. The South American countries in the two camps insist that they are not rivals, but friends. Nevertheless, a contest has begun. With the waning of the great commodity boom, which benefited the whole of South America, future economic growth will have to come from productivity, investment and efficiency. It is these the Pacific Alliance hopes to achieve.