Latin America is disappointing investors, economists and businesses with slower-than-forecast growth as waning commodity prices and strong currencies hit nations that failed to diversify and become more competitive.
The five biggest investment-grade markets in the region -- magnets for foreign capital as rich countries stalled --expanded below projections or show signs of weakness. Mexico's and Brazil's gross domestic product missed estimates in a Bloomberg survey. Economists polled by Brazil's central bank cut the country's 2013 outlook this week for the second time in seven days, anticipating the worst three-year period in a decade.
(below) While the Brazilian real and the Mexican peso have weakened this month, they are still the best performers this year among the 16 most-traded currencies Bloomberg tracks, increasing the relative cost of producing industrial goods in the region. Photographer: Susana Gonzalez/Bloomberg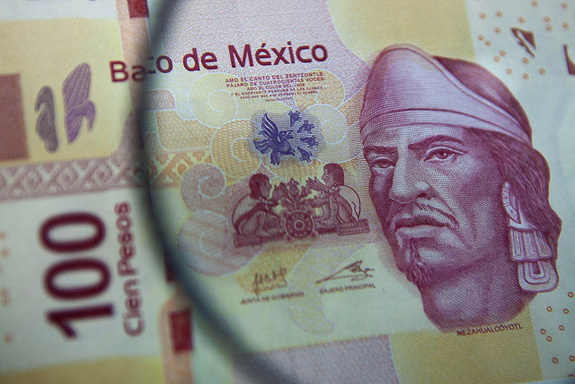 While cruising at twice the speed of the 1980s for the past decade, the region has reduced poverty and debt. Still, it has done too little to invest windfall revenue in roads, technology and education, and to promote businesses outside of mining and agriculture. Instead of reducing vulnerabilities to commodity boom-and-bust cycles, Brazil, Mexico, Colombia, Chile and Peru increased primary exports to an average 71.3 percent of foreign sales from 58.3 percent in the decade through 2011.
"The easy growth has been collected; now comes the difficult part," Alberto Ramos, a senior economist at Goldman Sachs Group Inc. in New York with more than 15 years covering Latin America, said in a telephone interview. "They need to find domestic sources of growth, rather than relying on abundant external liquidity and high commodity prices."
Stock Slump
A weaker Latin America could cause investors to pull back, said James Gaul, a portfolio manager at Boston Advisors LLC, which oversees about $2.5 billion in assets. The MSCI Emerging Markets Latin America Index, which tracks the major stock exchanges in the region, has lost about 4 percent this year, while the MSCI AC Asia Pacific Index (MXAP) gained 6 percent.
(below) A man looks out from the rooftop of a neighbor's house in the Rocinha slum of Rio de Janeiro. Latin America has done too little to invest windfall revenue in roads, technology and education, and to promote businesses outside of mining and agriculture. Credit: Dado Galdieri/Bloomberg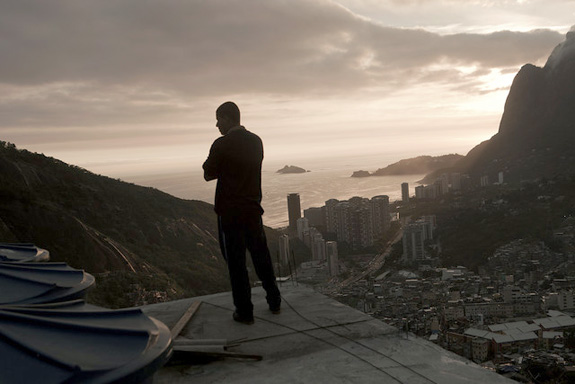 Stocks in Brazil, Latin America's biggest economy, have dropped about 9 percent in dollar terms, the worst performance of the 18 largest exchanges Bloomberg tracks, followed by Mexico, which fell about 5 percent.
Latin American sovereign dollar bonds also are lagging behind emerging markets in Europe, Asia and the Middle East, according to JP Morgan Chase and Co. indices, falling 3.4 percent this year, compared with a loss of 1.8 percent for emerging Asia.
Projections for the region's economic expansion in 2013 have declined to 3.38 percent from 3.81 percent six months ago, according to a Bloomberg survey of analysts. Asian countries are forecast to accelerate 6.44 percent, another Bloomberg survey shows.
'More Cautious'
"We're more cautious on them today than we were several years ago, driven by this decline in the global, commodity-led growth theme," Gaul said.
Easing Chinese demand for iron ore, copper and soy has pushed the region's 12-month trade surplus through March to the lowest in at least a decade, according to data compiled by Bloomberg. The Bloomberg Global 3-Month Commodity Price Index (CMDI3MO) -- which tracks a basket of metals, grains, livestock and energy prices -- has fallen 6.7 this year through May 16.
While the Brazilian real and the Mexican peso have weakened this month, they are still the best performers this year among the 16 most-traded currencies Bloomberg tracks, increasing the relative cost of producing industrial goods in the region.
Growth Barriers
The rising currency and high utility costs in Mexico, the region's second-biggest economy, make the U.S. more attractive for Katcon Global, a Monterrey-based auto-parts producer with plants in 10 countries, according to Fernando Turner, Katcon's chairman.
"We wouldn't make future investments in Mexico in this environment," Turner said. "I think we would in the U.S."
Mexican President Enrique Pena Nieto has pledged to remove barriers that have held growth to an average 2.5 percent in the past decade by attracting more private investment in energy and boosting competition in sectors such as the telecommunications industry. He said the changes could accelerate the expansion of GDP to 6 percent annually.
Finance Minister Luis Videgaray on May 24 attributed Mexico's economic deceleration in the first quarter to a sluggish U.S. recovery. His press office declined to provide further comments.
Optimism Dimmed
First-quarter sales of $4.8 billion by Mexican companies in the country's benchmark IPC stock index were 1.8 percent less than analysts' estimates, according to data compiled by Bloomberg. That was the worst performance since the second quarter of 2010.
"If you look at results in general, they've disappointed," Alonso Cervera, an economist at Credit Suisse Group AG, said in a telephone interview from Mexico City. "What we saw in the first quarter of this year is a confirmation that Mexico is still dependent on a healthy rest of the world."
Optimism over the global economy has dimmed as the pace of Chinese growth eased and the recession in the 17-member euro region extended to a record sixth quarter.
Latin America probably won't sustain growth at current levels, given labor constraints and recent trends for capital and productivity increases, the International Monetary Fund said in a report on May 13. While GDP jumped 4 percent on average each year in the decade through 2012, potential growth through 2017 is closer to 3.25 percent, it said.
Missed Forecast
Brazil has an annual shortage of 20,000 new engineers, according to the Federal Council of Engineering, Architecture and Agronomy. Companies spend 2,600 hours a year dealing with tax issues compared with 209 hours in the East Asia and Pacific region, the World Bank's Doing Business 2013 report shows.
Gross domestic product in the South American nation expanded 0.6 percent in the first three months of the year, missing forecasts by economists polled by Bloomberg for a fifth straight quarter.
Consumer confidence in Brazil has fallen in seven of the eight months through May, as rising household debt and annual inflation near the central bank's 6.5 percent upper ceiling erode purchasing power.
Inflation in Mexico has accelerated above the 2 percent to 4 percent target, even as slower-than-anticipated growth in the U.S. cooled industrial production.
In Peru, South America's fastest growing economy in 2012, expansion slid to a three-year low during the first quarter as investments declined and exports fell. A drop in Chinese demand reduced prices for copper and gold, which account for half of Peru's foreign shipments.
Inflationary Pressure
Lower commodity prices may help cut inflationary pressure and give central banks more room for monetary stimulus, said Henry Stipp, who oversees $3 billion as co-head of emerging-market fixed-income at Threadneedle Asset Management in London.
Chile, which depends on copper for more than half its exports, expanded at a below-forecast 4.1 percent in the first quarter, as investment growth eased to 9.6 percent from 18.1 percent in the previous three months. The price of copper fell about 5 percent in the 12 months through May 28.
Strong currencies have exacerbated the region's woes, making sales abroad more expensive and replacing domestic production with imports. Industrial output was down in March from a year ago for four of the five largest investment-grade economies in the region, with Colombia plunging 11.5 percent.
Weaker Peso
Economists there have cut 2013 growth forecasts to 4.2 percent since August, when the outlook was 4.9 percent. Colombia needs to do more to weaken the peso, which has harmed sales of farm and manufactured products, Finance Minister Mauricio Cardenas said in an interview May 23. He is pushing for the central bank to extend beyond May its U.S. dollar purchase program.
Brazil's President Dilma Rousseff seeks to attract $235 billion in investment for ports, roads, airports and railways to help companies reduce production costs, and her administration has said it is counting on public works for the 2014 World Cup to accelerate growth by 0.4 percent annually through 2019.
She has cut electricity and payroll taxes and is auctioning new oil-exploration rights. She also has said the government is working to remove infrastructure bottlenecks and heighten the competitiveness of domestic companies.
In Chile, the government is trying to increase funding for companies by reducing red tape on bond sales. In 2011 it relaxed rules for foreigners selling peso-denominated bonds in the country, enticing Brazilian lender Banco Pine SA (PINE4) and Mexican homebuilder Corp. GEO SAB (GEOB) to sell instruments known as bonos huasos, or cowboy bonds, in the Andean nation.
'Doctor Gloom'
While the Chilean economy is decelerating, it still is doing surprisingly well and shouldn't be seen through the eyes of "Doctor Boom or Doctor Gloom," Finance Minister Felipe Larrain said May 17.
Even so, increased spending on education, technology and infrastructure hasn't pulled Latin America ahead of its peers in Asia, Europe and North America.
Chile -- with the region's best reading-skills results in the Organization of Economic Development's Program for International Student Assessment survey -- ranked 44 among 65 countries; Peru came in second-to-last. A total of 212 vessels awaited cargo in Brazil during March, and the line of trucks to unload soybeans at the nation's busiest port surged to a record 15 miles long, according to Santos-based brokerage and shipper SA Commodities.
The region won't recover to levels of growth seen during the previous decade because the commodity boom is over and policy makers failed to reduce their dependence on primary goods when money flowed into their economies, said Michael Shaoul, chairman of Marketfield Asset Management in New York.
"Latin America hasn't bottomed yet," Shaoul said. "It's in the middle of a painful adjustment."
To contact the reporters on this story: Raymond Colitt in Brasilia Newsroom at rcolitt@bloomberg.net; Nacha Cattan in Mexico City at ncattan@bloomberg.net
To contact the editor responsible for this story: Andre Soliani at asoliani@bloomberg.net