Peru's Leader rejects Fujimori's plea for pardon
June 7, 2012 - LA Times
By Chris Kraul and Adriana Leon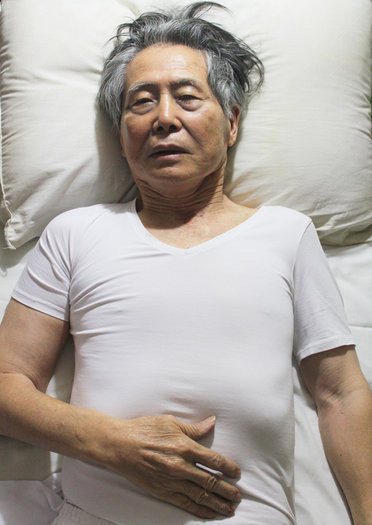 (right) Former Peruvian President Alberto Fujimori is shown lying in bed in prison. (Handout / AFP/Getty Images)
LIMA, Peru -- Peruvian President Ollanta Humala on Friday said he had turned down the plea for a pardon by former leader Alberto Fujimori, who is serving a 25-year prison term for corruption and crimes against humanity.
In an midday announcement at the presidential palace in Lima, Humala said he was acting on the recommendation of the justice minister not to exercise his power of granting pardon to Fujimori, who was elected president three times.
Fujimori's family appealed to Humala to grant a pardon on humanitarian grounds because the former president suffers from cancer of the tongue for which he has received five surgeries. Humala rejected those claims, saying that Fujimori was not suffering from "an incurable or degenerative disease."
Humala said what he described as Fujimori's lack of remorse for his crimes also weighed in the decision not to grant the pardon.
Fujimori, 74, was convicted in 2009 of ordering massacres against left-wing dissidents in 1991 and 1992 that left 25 people dead. He was also convicted of ordering the kidnapping of investigative journalist Gustavo Gorriti.
The massacres occurred during civil conflict between the government and the left-wing Shining Path guerrilla group and were carried out by a secret police group called La Colina that committed killings.
A former agronomy professor, Fujimori was president from 1990 to 2000, when he fled into exile in Japan amid an investigation of his former spymaster Vladimir Montesinos. In 2005, he returned to Chile, which he hoped would be his springboard back into Peruvian politics. Instead, the Chilean authorities arrested and deported him to face charges.
Fujimori's son Kenji is a congressman and his daughter Keiko was a losing candidate in the 2011 presidential election won by Humala.