(above) Florindo Flores raised his fist in defiance as the sentence was read out
Credit: AFP
Peru's Shining Path leader jailed for life for terrorism
June 7, 2013 - BBC News
A court in Peru has sentenced the last of the original leaders of the Shining Path rebels to life in prison.
Judges in the Peruvian capital, Lima, found Florindo Flores, who's known as Comrade Artemio, guilty of terrorism, drug trafficking and money laundering.
He was also ordered to pay a fine of $183m (£117m).
The Shining Path rebels were severely weakened in the 1990s after failing to install a Communist state, but some remain active in southern Peru.
After hours of sentencing, Judge Clotilde Cavero said: "It was proven that he (Artemio) ordered the execution of a number of civilians, police and soldiers.
"It was proven that he belonged to the Central Committee of the Shining Path.
"It was proven that he was the top leader in the (Alto) Huallaga (Valley)," she said.
Cocaine link
During the trial which lasted six months, Artemio, 51, had denied the terrorism charges but referred to himself as a "revolutionary".
He was captured and wounded last year after a clash with troops in Alto Huallaga, a former rebel stronghold and cocaine-producing region.
He admitted in December 2011 that the Shining Path had been defeated, and told reporters in his jungle hideout that the remaining rebels were ready to have talks with the government.
But President Ollanta Humala has been adamant that his government will not "negotiate with terrorists".
(below) The Shining Path has been linked to the production of cocaine in Peru, much of which goes to Brazil and Europe - Credit: Reuters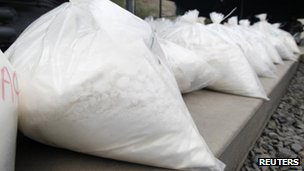 "They are cold-blooded killers, who kidnap children, don't respect basic rights, and try to use terror and extortion to change the democratic nature of the country," Mr Humala said last September.
Inspired by Maoism, the Shining Path tried to lead a "People's War" to overthrow what they called "bourgeois democracy".
Almost 70,000 people died or disappeared in more than a decade of internal conflict.
But the rebels were severely weakened after the capture of their founder Abimael Guzman in 1992.
They now remain active in the Ene-Apurimac Valley, a remote jungle region near Cuzco in southern Peru that is dominated by the cocaine trade.