Peru Left to Launch New Alliance with Eye on 2016 Presidential Election
June 28 2013 - Andean Air Mail & Peruvian Times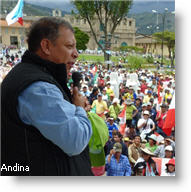 Left-wing groups in Peru are planning to form a political alliance aimed at promoting their candidates during regional and municipal elections in the coming year, and buiding towards the presidential vote in 2016.
The leader of the party Tierra y Libertad, Marco Arana, said the group is to be officially launched on Friday as the Broad Front of the Left in Peru. In addition to Tierra y Libertad, the group will also include Peru's Communist party, the Socialist party, and other leftist groups such as Patria Roja and Fuerza Social.
It will also include a group called Ciudadanos por el Cambio, or Citizens for Change, which is made up of former allies of President Ollanta Humala.
Humala ran for president in 2011 on a platform of leftist policies that included changing the economic structure of the country by increasing the state's presence in economic activities. However, since taking office, Humala has maintained the economic policies of his predecessors as part of a broader shift to the right.
Many of his closest allies during the campaign, including former Premier Salomon Lerner and economist Felix Jimenez, left his government a few months after he took office. They have been critical of Humala since then, although Lerner often still gets together with Humala, and the new group is a reflection of the Peruvian left's work to regroup after the 2011 election.
Arana said in an interview with Ideeleradio that the new alliance plans to run candidates in the 2014 municipal and regional government elections and the 2016 presidential election.
"I think the left can go with these new faces that the entire country now knows," said Arana, an environmentalist and former Catholic priest who has led protests against the $5.0 billion Minas Conga copper-gold project in Cajamarca.
Previous attempts by Peru's political left to create a single party have failed, encumbered by struggles between hard-liners and the more pragmatic to reach a consensus on almost all issues.