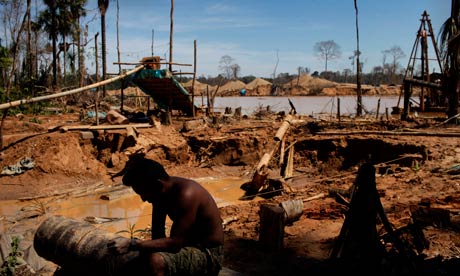 (above) A gold miner rests on a log about 60 miles east of Puerto Maldonado in the state of Madre de Dios, Peru. Photograph: Dado Galdieri/Getty Images
Illegal gold mining exposing Peru's indigenous tribes to mercury poisoning
September 9, 2013 - The Guardian
Toxic levels of mercury dumped in Amazon rivers gets into food chain, posing serious health risk to children, study finds

Indigenous children in Peru's south eastern Amazon, an area where tens of thousands of illegal gold miners operate, have unsafe mercury concentrations over three times the level of their non-native counterparts, a study has found.
The artisanal gold miners, who use mercury to extract the precious metal from river silt, dump more than 30 tons of the toxic metal in rivers and lakes in the Amazon region every year.
Native communities had levels of mercury roughly five times that considered safe by the World Health Organisation (WHO), whereas people in urban areas had double the safe limit, the study by the Carnegie Amazon Mercury Project found.
Overall, children were the most vulnerable group with mean mercury levels more than double the safe limit (1ppm – parts per million). Children in native communities had mercury levels more than five times that limit (5.2ppm). Some individuals had levels as high as 34 times the safe limit, according to the research.
Women of childbearing age were also disproportionately affected. Mercury, a neurotoxin, can cause severe, permanent brain damage to an unborn child.
The data was gathered in 2012 from the hair samples of 1,030 people in 25 communities across Peru's Madre de Dios region.
"Native communities rely almost exclusively on fish caught in the rivers and lakes as their primary protein source," said Luis E Fernandez, who led the Carnegie Institute for Science study.
He said mercury levels increased in 10 out of 11 fish species studied in 2009 and then again in 2012. The fish, such as doncella, zungaro and dorado, were the most commonly consumed in the area.
The mercury dumped by miners settles in the sediments at the bottom of the rivers and gets converted into an organic form, Methylmercury, which is absorbed by biological organisms and concentrated up the food chain.
Through the methylmercury in the fish which local people eat they are "exposed to levels which are tens of thousands, up to millions of times more concentrated than the mercury levels in the water in which the fish are swimming," Fernandez told The Guardian.
He added it was a "very serious public health crisis … with very few sources of information for the people to understand what they're being exposed to."
The miners have also deforested around 70sqkm of rainforest, according to official figures. Madre de Dios, known as the "capital of biodiversity," is renowned for its eco-tourism.