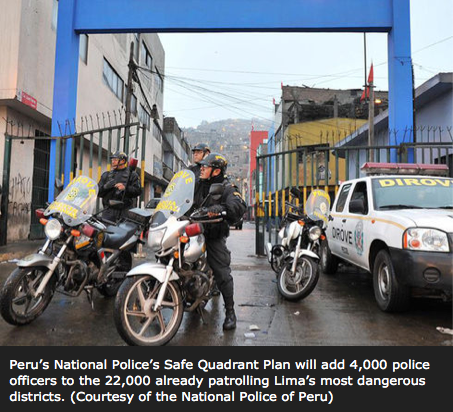 Peru: Police to improve public image with Safe Quadrant Plan
September 12, 2013 - infosurhoy.com
By Pedro Hurtado Cánepa for Infosurhoy.com
Authorities focus on fighting corruption.
LIMA, Peru – A greater police presence on the streets and effective punishment for corrupt officers are the foundation of a new strategy aimed to win back credibility for the country's police, according to Gen. Luis Praelli, Lima's police chief.
"We recognize that this situation [of public distrust] arises from people not feeling safe, coupled with wrongdoing on the part of some officers," he said.
Sixty-three percent of Lima residents don't trust the police, and 34% think the police's performance is poor or very poor, according to a survey of 501 people by the Ipsos polling company released in May.
In addition, 51% of Lima residents are concerned about problems with the police's public image, 25% admire the police and 24% didn't answer.
The country has about 34,805 police officers distributed in 1,397 precincts, with 22,000 officers patrolling the Peruvian capital, according to the National Institute of Statistics and Information Technology (INEI).
In July, Interior Minister Wilfredo Pedraza reported the dismissal of Gen. Orlando del Águila Cabanillas, the inspector general of police and third in command of the police forces, for corruption.
Additionally that same month, two sergeants were recorded demanding bribes from a driver for a traffic violation in central Lima. Both officers have been suspended from their posts while the issue is being investigated.
A total of 3,118 police officers were disciplined for professional misconduct during the first semester of 2013, according to the Interior Ministry.
Of that group, 2,200 were disciplined for minor offenses such as consuming alcohol before duty, groundlessly criticizing the police force, failing to obey orders from superiors or provoking scandals in police units.
An additional 611 police officers were disciplined for serious offenses, such as demanding gifts or favors from subordinates for acts related to their duties, allowing or committing usury or leaving work without permission.
Finally, 307 officers were sanctioned for very serious offenses like sleeping on duty, associating with criminals and corruption.
In 2012, 32,410 officers were penalized for disciplinary infractions, resulting in 331 dismissals.
There have not been any dismissals in 2013, according to the government.
"Police officers, regardless of rank, who are involved in acts [of corruption] will be identified and severely disciplined," Pedraza said.
More police on the streets
The Ipsos poll indicated that 66% of Lima residents demand more police on the streets, so the police implemented the Safe Quadrant Plan (Plan Cuadrante Seguro). It divides a jurisdiction into five sectors and assigns police officers, municipal guards – known as serenos – and neighborhood watch groups to monitor them, according to Praelli.
In Lima and El Callao alone, the Safe Quadrant Plan, a US$32.2 million initiative, deployed 4,000 officers to critical areas, specifically the districts of Comas, Carabayllo, La Victoria and El Callao, where about 1.5 million of the eight million Lima metropolitan area residents live, according to INEI.
The victimization rate in this area is 44%, while 82.3% said the area is unsafe, according to the 2012 Second Metropolitan Survey on Victimization.
In case of an emergency, neighbors alert the community using whistles, speakers and horns. They communicate with each other with mobile devices and contact police.
"We are adding patrol officers and police stations in the most dangerous areas of the capital as a deterrent," Praelli said. "We are confident that over the next six months, the community will receive better service from the police based on officers' honesty."
The other side of the strategy is to regulate additional work police officers perform during their free time.
In Peru, police officers work 24 hours straight and then rest 24 hours, a system known as 24x24.
Many officers provide security services to commercial establishments on their days off, according to Praelli.
However, authorities are looking to put an end to these informal services. Under the Safe Quadrant Plan, officers can only work for banks or companies that have an agreement with the Interior Ministry.
"We want to establish suitable working conditions for them," said Praelli, adding the government wants to add companies that cover incidental expenses involving police officers.
In February 2013, the Interior Ministry significantly increased the number of officers to patrol the streets of Peru.
"We are providing all our logistical support to the Safe Quadrant Plan to ensure the safety of our residents and visitors," said Jessica Vargas Gómez, mayor of Barranco, a district of Lima known for its tourism. "It is important to ensure the safety of visitors to Barranco. After all, this is essential for the normal development and growth of local tourism."
Vargas said 80 police officers provide security and cover 20 critical points throughout the district.
"Increasing police presence on the streets has brought us closer to the community, and as a result, we will decrease the perception that the public is not safe," she added.