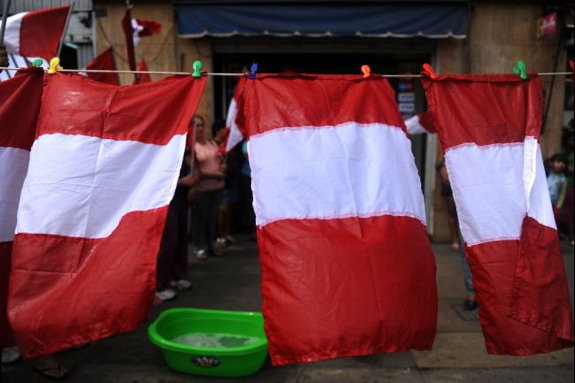 (above) Peru's flag hangs out to dry. But can Peruvians ever scrub the country of its dirty business? (Ernesto Benavides/AFP/Getty Images)

In Peru, a tale of two presidents
October 3, 2013 - Global Post
Even in Latin America, where graft is endemic, two more allegedly corrupt ex-presidents would mark a new low. No wonder nearly half of Peruvians consider corruption one of the country's top problems.

LIMA, Peru -- From traffic cops demanding bribes to flagrantly crooked politicians, Peruvians long ago wearied of the graft that appears to have infected almost all aspects of public life here.
Yet the latest corruption allegations, against Peru's last two presidents, may have even the most cynical feeling their hearts sink.
Alejandro Toledo, president from 2001 to 2006, and Alan Garcia, re-elected from 2006 to 2011, are both now accused of getting rich illegally.
Should the charges be proven, all three of Peru's most recent elected ex-presidents would have been convicted of corruption.
Alberto Fujimori, president from 1990 to 2000, is serving a 25-year jail term for embezzlement and directing death squads.
Even in Latin America -- where the United Nations says corruption is "endemic" -- that would mark a new low.
The "illicit enrichment" accusations against Toledo and Garcia, who both vehemently deny any wrongdoing, come after recent property purchases in upscale neighborhoods of the Peruvian capital, Lima.
Toledo, 67, is under fire after his mother-in-law paid nearly $5 million to buy a house and office through a Costa Rican firm, which Peruvian media claim was a shell company.
Since the allegation first emerged, the ex-president's contradictory explanations about the source of the cash used to buy the property in July 2012 have only deepened his legal woes.
Meanwhile, Garcia, 63, insists a house he bought earlier this year for nearly $1 million was paid for with proceeds from his books and speeches.
Many Peruvians are not so sure, recalling what may be the most infamous quote of Garcia's second term: for presidents, "money arrives on its own."
Peru's attorney general, Jose Pelaez, is investigating both cases and has officially lifted the confidentiality regarding the pair's known bank accounts.
Yet many here have noted an apparent contrast in the aggressive probing of Toledo's case with an allegedly lax approach to Garcia, who appointed Pelaez shortly before stepping down in 2011.
"What is worrying is that in the case of Toledo there seems to be a greater concern and commitment … in getting to the roots of the case, but there doesn't appear to be the same thing going on with Garcia," said Samuel Rotta, of Proetica, the Peruvian branch of anti-corruption group Transparency International.
Some experts attribute this partly to the powerful reach of Garcia's party, APRA, versus that of Toledo's party, Possible Peru.
"Possible Peru doesn't have any control, or the least influence [in the attorney general's office]. But APRA, and above all Garcia, have multiple paths and ways to interfere and influence. That is the difference," said lawyer Carlos Rivera, of Peruvian nonprofit IDL, which campaigns against abuses of authority.
Should the case against Garcia be shelved, as many fear, it would hardly be the first time the ex-president has walked away scot-free from allegations of criminal behavior.
During his first presidency -- which ended in 1990 amid hyperinflation and civil war -- he presided over numerous serious human rights abuses, with US officials reportedly convinced he had even ordered extrajudicial killings.
Meanwhile, the highlight of the numerous other corruption allegations that have swirled around him may now be the "narco-pardons" scandal.
Nearly 3,000 jailed drug traffickers, including Colombians and Mexicans, bought presidential pardons, handing over millions of dollars to a committee appointed by and reporting directly to Garcia, according to a congressional commission.
The head of that committee, Miguel Facundo Chinguel, is now in jail awaiting trial.
The attorney general so far has not probed whether the ex-president was involved in the racket. Pelaez's office did not respond to GlobalPost's requests for comment.
Corruption is now so widespread in Peru that many commentators believe it undermines this country's fragile democracy and the rule of law.
The cost to Peru's economy was once put at 0.8 percent of lost GDP growth per year. Over decades, that could make the difference between Switzerland's levels of wealth or those of a nation that is perpetually "developing."
Polls here show the three institutions most perceived as corrupt are the police, the courts and congress.
In a recent survey by nonprofit Proetica, 44 percent named corruption as one of the three biggest problems facing Peru.
President Ollanta Humala was elected in large part on the claim that he would fight graft, yet has disappointed many of his supporters since taking office in 2011. The Proetica survey found 77 percent believe he has shown little or no leadership on the issue.
Traffic cops here routinely and openly demand bribes to let motorists off the hook for violations ranging from lacking insurance to drunken driving.
Meanwhile, roughly 1 in 5 of the 130 members of Peru's single chamber congress has been caught up in corruption allegations since being elected in 2011.
Their alleged crimes include everything from running brothels with underage sex workers to illegal gold-mining and operating a cable TV company that sold pirated stations, and involve members of all Peru's main parties.
Humala's own vice president, Omar Chehade, was forced to resign after just a few months in office for apparent influence peddling. But he remains a member of congress.
According to IDL's Rivera, the story of Peru's anti-corruption battle is "semi-tragic." Despite significant successes in imprisoning Fujimori, various cabinet ministers and army generals, the country has now slid backward.
As if that was not worrying enough, Garcia, Toledo and Fujimori's daughter, congresswoman Keiko Fujimori -- who runs largely on her father's legacy, claiming that corruption "attacked" his administration -- are arguably the three leading contenders for the 2016 presidential elections.
As a result, any dark horse candidate plausibly promising to crack down on graft may stand a real chance of an upset -- just like Garcia in 1985, Fujimori in 1990 and Toledo in 2001.

http://www.globalpost.com/dispatch/news/regions/americas/peru/131003/latin-america-corruption-garcia-toledo