Fujimori Court Appearance Criticized as "Studied"
October 18, 2013 - Peruvian Times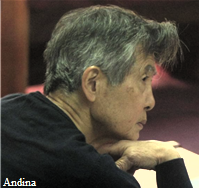 The dishevelled appearance of former President Alberto Fujimori, appearing in court on Thursday for a new trial, triggered criticism in some of the press and across the social media, and anti-corruption prosecutor Julio Arbizu said he believes that Fujimori will be appealing to a "media show."
Fujimori is on trial over allegations that he took money from the Armed Forces funds to bribe tabloid newspapers in the run up to his 2000 reelection. He is pleading not guilty.
The trial got off to a slow start when a weak-looking Fujimori, using a blood pressure measurement device on his desk, signalled to a doctor who then told the judge that his blood pressure was too high. The judge suspended the hearings immediately, daily Peru. 21 reported, and has set a new date for Oct. 28.
Fujimori is accused of taking about 120 million soles ($40 million) from military funds, which he used to buy the editorial line of tabloid newspapers, locally known as the chicha press, to support his reelection. The tabloids, some even launched with these funds, were given their daily headlines, regularly attacked opponents of Fujimori, and were strong backers of his reelection bid.
Fujimori won the 2000 election but it was tarred with vote rigging, according to international observers. Fujimori's election gave him a third term in office through a controversial interpretation of the Constitution. At the time, in a new Constitution written during Fujimori's first term, the law changed to allow two consecutive terms in office, rather than the earlier "no consecutive terms." Fujimori and his party in Congress then argued that he could hold office for a third consecutive term because the law came into effect after he was in office and, therefore, his first term was prior to the changes and should not to be considered.
Fujimori is already imprisoned, on charges of authorizing extrajudicial killings by a paramilitary death squad, as well as corruption crimes . He was sentenced to 25 years in prison for those crimes in 2009.
Fujimori governed Peru from 1990 to 2000, when he fled to Japan following revelations of widespread corruption in his administration. He flew to Chile from Japan in 2007, and was then extradited to Peru that same year to face charges.