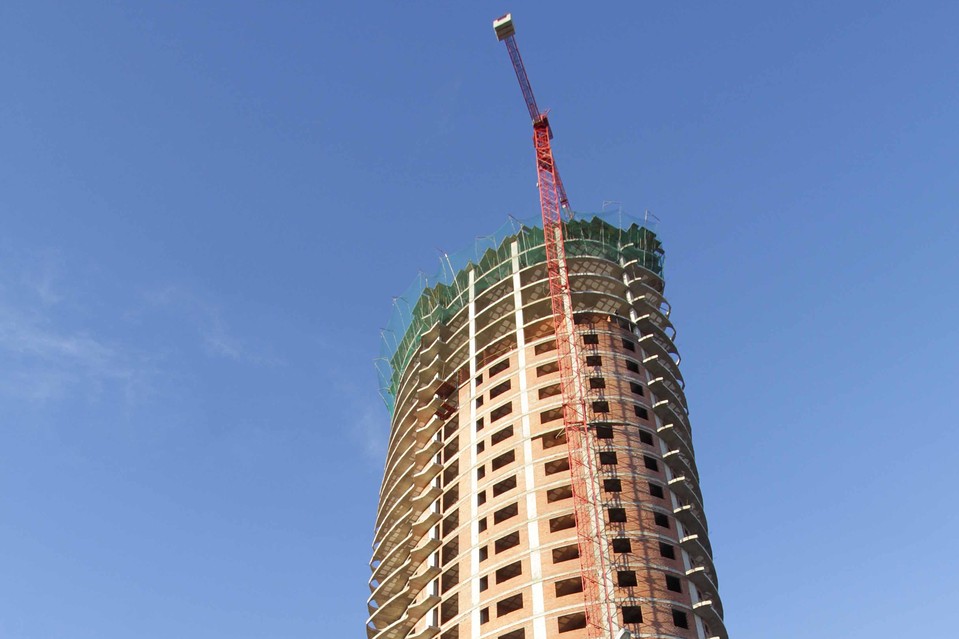 (above) From the top of Riviera Towers, some 15 cranes pierce the Santa Cruz, Bolivia, skyline. Martin Arostegui for The Wall Street Journal
Construction Cranes Dot a Bolivian Skyline; Will Growth Continue?
December 16, 2014 - Wall Street Journal

An Economic Growth Spurt Ignites a Real-Estate Boom, Fueling Some Concern

By Martin Arostegui

Bolivia, one of Latin America's poorest countries, is experiencing a spurt in economic growth that has ignited a boom in the real-estate sector.
But the surge in construction has begun to cause concern among some lenders that demand may not keep up with the new supply, especially with the global energy industry slowing.
Record revenue from the export of gas, minerals and grains drove Bolivia's gross-domestic-product growth in 2013 to 6.8%, which is among Latin America's highest, according to the country's National Institute of Statistics.
That, in turn, has helped fuel a 32% rise in construction spending since 2012, according to Bolivia's construction institute, Cadecocruz.
International oil companies, including Repsol SA of Spain, Total SA of France, Russia's Gazprom OAO and China's Sinopec LMTD, have built headquarters in Santa Cruz, a once-sleepy market town in Bolivia's eastern lowlands that is now one of Latin America's fastest-growing cities. Manufacturer 3M Co. is among the tenants in a modern business district, known as the Golden Triangle, which has risen out of what used to be muddy park land.
Developers also are moving ahead with hotel and retail projects. A Marriott hotel is being built alongside the 400-foot Riviera Towers skyscraper, the city's tallest building. The oval tower includes residential apartments and a commercial center. An office building is planned to go up next to it.

Nearby is the 1.1 million-square-foot Ventura mall, which opened this year and offers dining at such global brands as Hard Rock Café and TGI Fridays. Planned condominium projects include Turquesa Beach, with a planned artificial lake, and Urubo Golf, with 700 living units and a promised championship course.
From the top of Riviera Towers, some 15 cranes can be seen on the skyline. More than 60 construction projects are under way in Santa Cruz, according to Cadecocruz. Of those, 46 are residential, 13 for mixed residential and commercial use, four for office projects and five for hotels.
Some banking analysts are concerned the market won't be able to absorb all the new building. "We have insufficient information to quantify demand," said Pablo Mendieta, chief economist for the Bolivian Chamber of Commerce.
Gonzalo Ostria, who until recently was chief financial officer at Banco Economico, said some financial institutions are getting worried. "Since last year, banks have been holding back on loans, fearing that the property market could become saturated," he said.
Bolivia's Banco Union says the rate of overdue payments on home loans has risen to 1.6% in 2014 after being close to zero in previous years, when lending was much more limited.
According to the National Institute of Statistics, Bolivian municipal authorities approved 30 million square feet of space for new construction in 2014, down from 34 million approved in 2012.
"Bolivia is being affected by the declining world prices for oil and commodities," said Nabila Dabdoub, who monitors Bolivia for Latin America Invest Inc., a Miami-based wealth-management firm. Ms. Dabdoub said she believes that the Bolivian real-estate market has peaked.
Santa Cruz, Bolivia's business capital, has experienced a population boom, tripling to almost three million over the past 10 years, according to the 2013 census. The country's minimum wage, meanwhile, has quadrupled in six years, and average salaries have risen 20% since 2010, according to Bolivia's labor ministry. That has created a new middle class in a country where 52% of families don't own a home.
Many of the projects are being backed by local investors. The Marriott hotel is being financed with $15 million in equity from local investors as well as a $16 million loan from the World Bank's International Finance Corp., according to Carlos Saavedra, one of its Bolivian partners and a former government minister.
Many developers who invested in the early stages of the real-estate boom enjoyed big profits. Peter Verschuren, who became a developer after working in Bolivia as a financial officer for Royal Dutch Shell PLC, raised $25 million from local banks to fund the Riviera and said he tripled his investment by catching the market when construction costs were low.
"The problems of dealing with the local bureaucracy proved worth it," said Mr. Verschuren, who had to wait more than a year to get his building permit.
But costs have been rising as the economy expands. Bolivia's construction cost index has climbed 23% since 2011, according to the National Institute of Statistics. Labor costs have risen almost 60% since 2010, according to Cadecocruz.
Some developers still see opportunities. Abdallah Daher, the developer of Ventura Mall, is planning another mall about half the size of Ventura.
Mr. Saavedra, meanwhile, said he expects growth to continue for the next four years, a period in which Bolivia's gas reserves should remain sufficient to meet export commitments to its main markets in Brazil and Argentina.
"Businessmen from all over the world are interested in Bolivia's undeveloped market," he said.