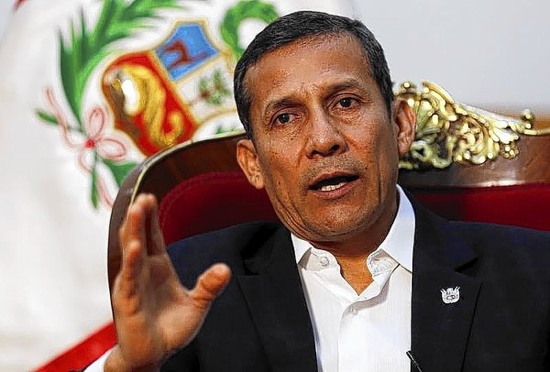 (above) Peru's President Ollanta Humala speaks during an interview with Reuters at the government palace in Lima (MARIANA BAZO, REUTERS / July 13, 2014)
Peru's Humala eyes more reforms to spur faster growth
July 12, 2014 - Chicago Tribune
By Marco Aquino (Reuters)
LIMA (Reuters) - Peru's President Ollanta Humala said on Saturday he plans policy changes to boost domestic demand and offset tumbling mining exports that have dragged growth to its weakest pace in five years.

Depressed global mineral prices and softer demand for commodities from China have been eating away at Peru's growth rates that topped 6 percent annually for much of the past decade. The government has said it will revise down its forecast of 5.7 percent GDP growth for 2014.

Humala, whose popularity ratings have slumped, declined in an interview with Reuters to give details of the plans, saying that he would flesh out the new policies in an annual speech to the nation on July 28.

But he said the measures would build on an earlier raft of reforms approved this month by congress designed to lure more investments by cutting red tape, easing environmental rules and locking in tax rates for big mining projects.

"Peru has solid fundamentals to not just pass these measures and dynamize domestic demand and supply, but also to keep taking steps so that we get through this slowdown as soon as possible," Humala said.

Humala, a former left-leaning military officer who has ended up sticking to the pro-business policies that helped drive a decade of robust growth, called the economic slowdown "temporary".

Peru's central bank this week surprised the market with a 25 basis point rate cut, though it said the move did not necessarily mark the beginning of an easing cycle.

Analysts say the South American country's current account deficit is at a record high.

The Andean country is a top global exporter of copper, gold and silver, and several global miners operate there, including Southern Copper, Newmont Mining, Rio Alto Mining, Chinalco and MMG Ltd.

Humala said that he was determined to diversify the commodities-based economy so that "we depend less on raw materials and more on the training, intelligence and talent of Peruvians", but did not elaborate.
UNPOPULAR
The economic slowdown has piled more pressure on Humala, whose popularity has sunk to 21 percent, a new low for his time in power since 2011, with respondents citing rising crime levels, endemic corruption and broken campaign promises.

But Humala, who is constitutionally barred from taking a second consecutive term, brushed off the polls and said he would continue to lead as he saw fit.

"My concern is the country, not polls," Humala said.

Considered the world's largest producer of cocaine, Peru has begun talks with the United States over resuming a program to let Peruvian authorities force down aircraft thought to be transporting drugs.

Peru abandoned a similar program in 2001 after its military accidentally shot down an airplane carrying missionaries, killing a U.S. woman and her baby and sparking international criticism. At the time, Washington provided logistics.

The U.S. is a key backer of Peru's efforts to curb drug trafficking but is barred legally from funding activities that could result in a civilian plane being shot down.

"The idea is to go back to carrying out aerial interdiction, and we will take the sovereign decisions so we can do that," Humala said. "We want to do it in the right way, but Peru has needs that it must fulfill."

About half of Peru's coca, the main ingredient in cocaine, is produced in a dangerous swath of jungle valleys known as the VRAEM, where a remnant band of Shining Path rebels get a cut of drug trafficking and occasionally attack security forces.

Humala abruptly replaced his anti-drug chief in May. The government said later it was backing off her goal of eradicating most coca fields in the area because of concerns of clashes with rebels.

Instead, it wants to persuade farmers in the area to switch from coca to cash crops, including coffee and cacao.

"What we want is to consolidate a balanced policy," Humala said. "But without spilling blood."

(Reporting By Marco Aquino; Writing by Mitra Taj; Editing by Richard Lough)