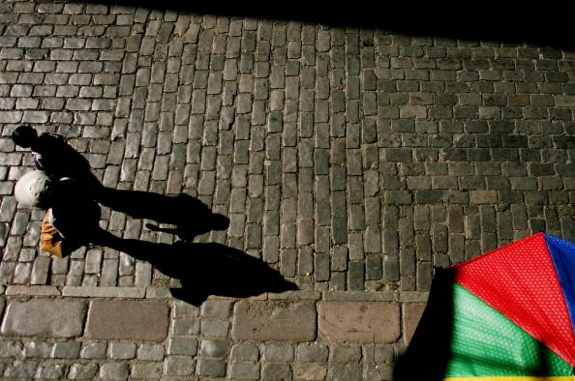 (above) LA PAZ, BOLIVIA - DECEMBER 22: A couple walks down a street during the Christmas shopping season December 22, 2005 in downtown La Paz, Bolivia. After the historic election of Evo Morales as President of Bolivia, the impoverished country is calm and preparing for the radical adjustments the leftist admirer of Che Guevara will bring to Government. Exit polls from the December 18 election show Evo Morales, the former coca grower, winning a commanding 51.2 percent of the popular vote, avoiding a contentious run-off in Congress. (Photo : Spencer Platt/Getty Images)

Bolivia's La Paz May Become South America's Hottest Tourist Spot
January 5, 2016 - latinone.com
The new year may have just started, but that does not mean that it's too early to plan for your next vacation. You may find your next destination in an unlikely place.
For instance, you will likely not expect the next big tourist attraction to be in Bolivia. Sure, you've been to South America before, but it's usually Argentina, Chile, Brazil and Peru that has your attention: Bolivia is merely an afterthought.

However, Telesurf noted that UNESCO just named a place in Bolivia, called La Paz, as its wonder city because of its unique character.
Raul Perez, from the La Paz Tourist Authority said, "Usually when you think of La Paz you think just about the center of the city. The church of San Francisco, Witches' Market, the Valley of the Moon. But La Paz is a city of more than 2,000 square kilometers and we only inhabit 10%. We have another 90% that we can develop and that we will be able to show off."
New attractions have been developed, ranging from high mountain adventures to city sights, all to help attract up to a million new tourists to the city this year. However, the improvement of the infrastructure, roads and communication systems also helped.
Juan Carlos Nunez, a guide with over thirty years of experience, said that the diversity of La Paz also adds to an increase in tourists. He shared, "We have 36 indigenous groups in Bolivia. Everywhere you go the costumes are different and the language is different. If we can interact more with the communities, they can make money and we can upgrade their way of living."
The Lonely Planet also mentioned that the altitude, at 3,660m, makes the city dizzyingly lovely, but its quirky beauty can take your breath away.
La Paz is Bolivias largest city and center for commerce, finance, and industry. It is said to be experienced better if savored over time.
Among the tourist attractions include lovely markets, interesting museums and trendy cafes.
For those looking forward to a trip in La Paz in the summer, their warm months are between November and April, but the rain falls most afternoons and the canyon can be filled with clouds. Their winter months are in May and October, and days may be slightly cooler. Don't forget the sunscreen, though, as the sun is strong and temperatures can reach the high 60s, although it drops to below freezing at night.