(above) Other photos from gallery of pictures shown below
Bolivia's Morales marks decade in office, eying more
January 21. 2016 - news.yahoo.com
by Raul Burgoa
Tiahuanaco (Bolivia) (AFP) - Bolivian President Evo Morales, the country's first indigenous head of state, held an ancient ceremony Thursday to mark a record-setting 10 years in office -- a term he is now seeking to extend to 2025.
(below) Video: Click to go to original article -- video is roughly the 4th picture in gallery.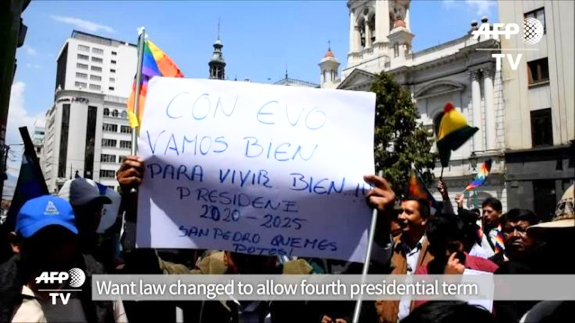 In a dawn ritual, the leftist leader raised his hands to receive the first rays of the morning sun, then breathed in the incense from a large pyre lit to bring good fortune.
The rite, set to the sounds of Andean music, was held at the archaeological site of Tiahuanaco (or Tiwanaku) in western Bolivia, a city of pre-Incan stone ruins thought to have been a spiritual and political center from AD 400 to 900.
(below) rest of Gallery of pictures in article.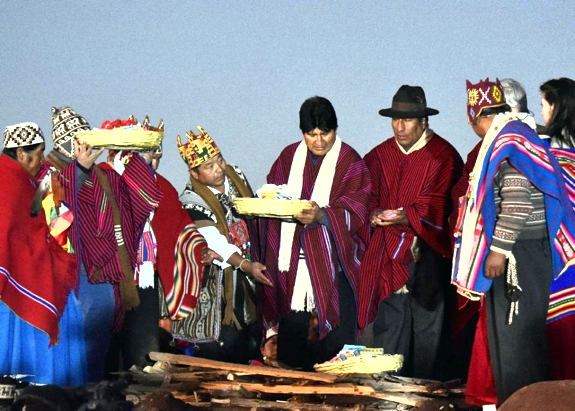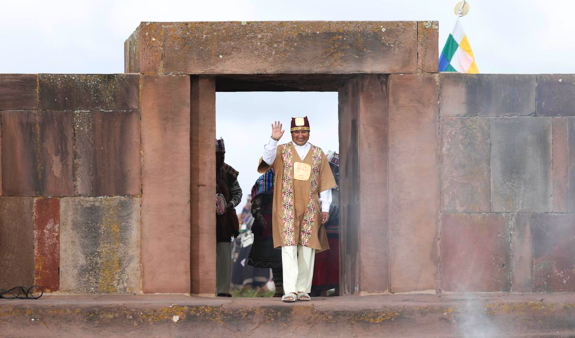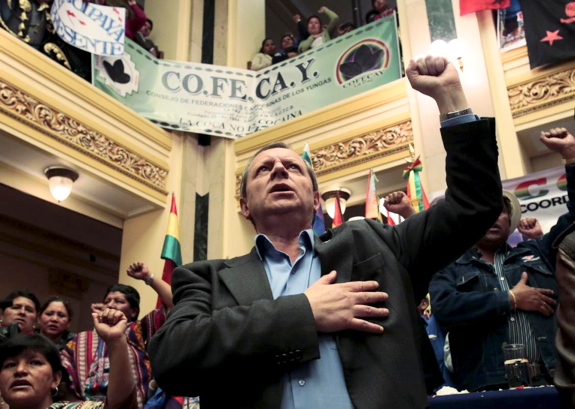 "With this small but very important act, I would like to take the opportunity to express our gratitude for these 10 years of service to the Bolivian people," said the president, who faces accusations of seeking to cling to power.
Morales took office on January 22, 2006, after defying centuries of discrimination against Bolivia's indigenous communities to win a landslide election victory.
He has since presided over a period of robust economic growth and transformative changes for the long-suffering indigenous majority.
A former coca grower who got his start in politics as a union leader, he has deftly managed the resource-rich economy, which has more than tripled in size during his decade in office.
Thanks to that growth, Morales, an Aymara Indian who grew up with no running water or electricity, has managed to largely win over even his former critics in the business community.
"When I swore in as president in 2006, some of our opponents said, 'Poor little Indian, let him have fun for a few months. He won't be able to govern and after that we'll get rid of him,'" he has said.
But with the opposition riven by infighting, Morales, 56, has won resoundingly in the past three presidential elections: 54 percent of the vote in 2005, 64 percent in 2009 and 61 percent in 2014.
His politics blend the indigenous power movement with environmentalism and the "21st-century socialism" preached by late Venezuelan president Hugo Chavez.
He has nationalized the oil, gas, mining and telecommunications sectors, rolled out welfare grants for the elderly, children and expecting mothers, and moved to empower marginalized groups -- especially the 65 percent of the population that is indigenous.
Defying opponents' dire warnings of economic catastrophe, Bolivia has instead boomed.
Despite plunging prices for its oil, its economy grew 4.8 percent last year, one of the strongest rates in Latin America.
- Changing the constitution, again -
The economic and political stability are welcome in the landlocked South American nation, which has had 160 coups since independence in 1825 and remains one of the region's poorest countries.

But opponents accuse Morales of presiding over expanding corruption and investing in flashy big-ticket infrastructure projects at the expense of basic needs like health and education.
And "Evo," who is already the longest-serving president in Bolivian history, is increasingly accused of trying to cling to the presidency for as long as he can.
A new constitution adopted in 2009 imposes a limit of one reelection for sitting presidents, but Bolivia's Supreme Court ruled that Morales's first term was exempt -- clearing the way for him to run again in 2014.
His current term ends in 2020, but he is pushing for a referendum to amend the constitution and enable him to serve until 2025.
Morales has had an antagonistic relationship with the United States, defending coca growers from the US "war on drugs."
Besides being the base ingredient for cocaine, coca leaves are widely chewed in Bolivia and brewed as tea -- uses Morales argues are part of the country's cultural heritage.
In 2008 he kicked the US Drug Enforcement Agency out of the country, along with the American ambassador, accusing them of conspiring against his government.
Morales will officially mark the anniversary Friday with a ceremony in Congress, where he will deliver a nationally televised address.