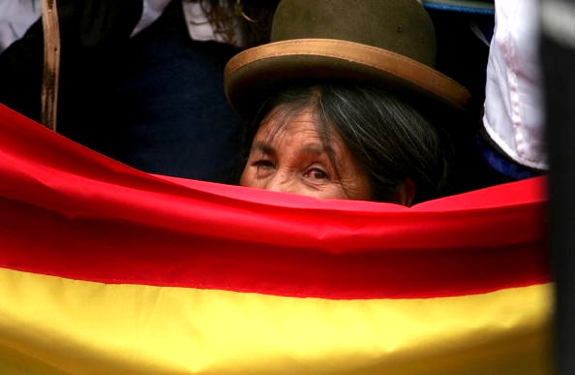 (above) LA PAZ, BOLIVIA - DECEMBER 13: A woman in traditional dress peaks out from behind a Bolivian flag while listening to Bolivian Presidential Candidate Evo Morales speak at a rally December 13, 2005 in La Paz, Bolivia. Bolivia, South America's poorest country, is about to face a crucial election with leftist candidate Evo Morales leading the field. Morales, a one time coca farmer and union leader, who offers what may become the most radical vision in Latin America, is leading in the polls for the presidential election which is scheduled to take place on December 18. Washington is paying close attention to the race as fears grow of yet another leftist government. (Photo by Spencer Platt/Getty Images) (Photo : Spencer Platt/Getty Images)

Bolivia Celebrates Its Growing Economy at the Alasitas Festiva
January 26, 2016 - latinone.com
Bolivia celebrated its growing prosperity during the annual Alasitas Festival on Sunday. Bolivians took to the streets to purchase miniatures and counterfeit money in hopes that these emblems will bring them luck and wealth for the year.

In a report with The Guardian, the streets of La Paz came alive on Sunday as Bolivians and tourists alike splurged on creative and colorful miniatures and counterfeit currencies. The South American country has enjoyed a boom in the economy, and this year's Alasitas Festival is proof of that.
Those who took part in the annual festival took the opportunity to splurge on miniatures crafted in the likeness of cars, tiny crates of beer and even tiny suitcases filled with paper credit cards, passports and travel visas. These were being sold by cholitos in Plaza Murillo.
Students who wanted to have luck during the year could purchase miniature degree certificates and liscenses from leading universities. Those who wished for good health in their family could also purchase health certificates from some of the world's most respected health institutions.
Local custom dictates that these purchased miniatures must be blessed by a local shaman. These indigenous shamans bless the miniatures using incense and offer it to the Bolivian God of fortune, Ekeko. A fee is charged for every blessing that they give.
Even Catholic priests have taken the opportunity to bank on the festivities by charging the faithful for their own blessings.
The God of fortune is represented by a chubby man smoking a cigarette. Believers keep a statue of Ekeko in their own home and offer him the miniatures with their prayers.
The annual Alasitas Festival runs for a month in La Paz, Bolivia reports BBC. The miniatures may be small in size, but those who purchase them dream big. The festival is a celebration of abundance and prosperity. Those who join in the festivities also hope that this will hold true throughout the year.
Formerly one of the poorest countries in Latin America, Bolivia is currently enjoying its greatest prosperity to date. It was reported by The Guardian that this year, sales of the miniatures have exceeded expectations.
However, with the reality of global commodity prices, Bolivians might need a little more than luck on their side. The Bolivian nation is rapidly changing and developing, but for festivals like these, Bolivia proudly holds on to its traditional culture.