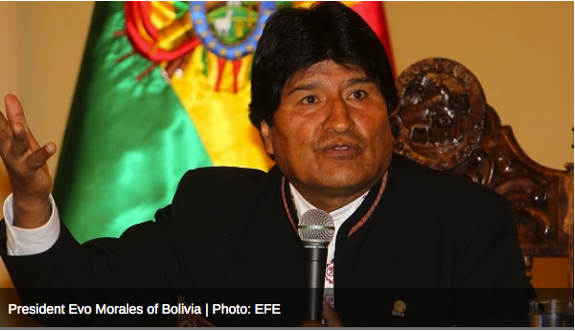 Bolivia's President Evo Morales Ready to Step Down in 2020
September 6, 2016 - telesurtv.net

Bolivia's longest serving president has confirmed he will step down as head of state in early 2020.

"I have already said several times, I am not in the campaign and you have told me, 'Go!' And I am going in January 2020, we are prepared for that," said Evo Morales in a speech to supporters in Pando.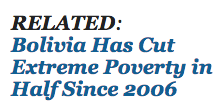 The announcement was met with skepticism by Bolivia's opposition. Core supporters from the ruling Movement Toward Socialism party say Evo Morales remains their favored candidate for the next elections in 2019.
Coca producers, one of the most important allies of the socialist government, have been encouraging Morales to find a way to legitimately seek a fourth term. "The social movements are collecting signatures asking for a new referendum to authorize his re-election and this announcement seems to be part of an electoral campaign," said opposition Congresswoman Jimena Costa.
Former Vice President Victor Hugo Cardenas claimed, "It would not be the first or the last time that Evo Morales promises one thing and, shortly after, does the opposite."
President Morales began his first term in 2006, the second in 2010 and his current third term in 2015. The Bolivian constitution allows for presidents to serve for two consecutive terms. However, a court ruled Morales' first five years did not count because they pre-dated Bolivia's new constitution which was written in 2009.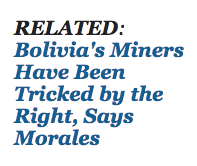 MAS members have decided to postpone a debate on nominations to succeed Morales until 2018 in the hope he can be persuaded to run again.
Evo Morales' announcement follows months of speculation that the president might decide to run for office again despite losing February's referendum on abolishing two-term presidential limits.
The "No" campaign narrowly won the vote by 51.3 percent. Evo Morales and senior ministers in the leftist government blamed a "dirty war" waged on social media by the opposition and the United States for "fooling" the electorate into voting against the administration.
Despite Morales statement, Foreign Minister David Choquehuanca has given hope to members of MAS by claiming Morales could still be a presidential contender in 2019.
"It does not depend on President Morales if he is going or not going. This depends on the electorate. Why have the people asked him to stay? The president has spoken but it's not in the hands of the president," Choquehuanca told the EFE news agency.
"There is only one Nelson Mandela, there is only one Morales, there is only one Fidel (Castro). They are people who have made history that did not depend on them, but on the people," added the minister.