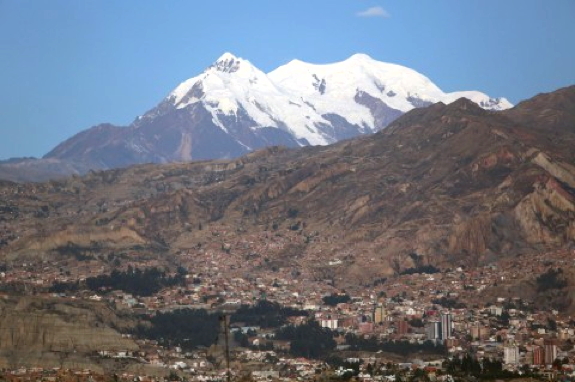 (above) Mount Illimani rises over La Paz, Bolivia. The peak's glacier is melting rapidly. (NOAH FRIEDMAN-RUDOVSKY/BLOOMBERG NEWS)

Scientists rescue samples of melting Bolivian glacier for posterity
June 24, 2017 - Reuters
By Reuters
An international team of scientists is transporting samples of ice to Antarctica from a melting glacier in Bolivia for study and preservation before the glacier disappears.

The "Ice Memory" expedition of 15 scientists took samples from the glacier on Illimani Mountain in the Andes and will store them in Antarctica at the French-Italian research station Concordia.
The scientists were helped by local guides and porters. Clearly visible from Bolivia's capital, La Paz, Illimani's "eternal snows" are frequently referenced in the music, mythology and literature of the Aymara people.
But scientists say global warming is rapidly melting the glaciers of the Andes, removing an important source of fresh water for many communities and threatening others with deadly avalanches. Illimani itself has warmed by 0.7 degrees Celsius (about 1.5 degrees Fahrenheit) in the past 18 years, said Ice Memory glaciologist Patrick Ginot.
The team dug more than 430 feet into the glacier to remove 75 ice samples, which they say yielded about 18,000 years of climatic history.
"As glaciologists, we want to keep this kind of glacier sample because for us it is an encyclopedia of the climate and environment," Ginot said.
"When you remove a glacier sample, you're perforating through into the world's history."
The French-led Ice Memory organization says its goal is to create a global ice archive sanctuary in Antarctica. It has also run a similar expedition on Mont Blanc in the Alps and plans further trips to Russia and Nepal.