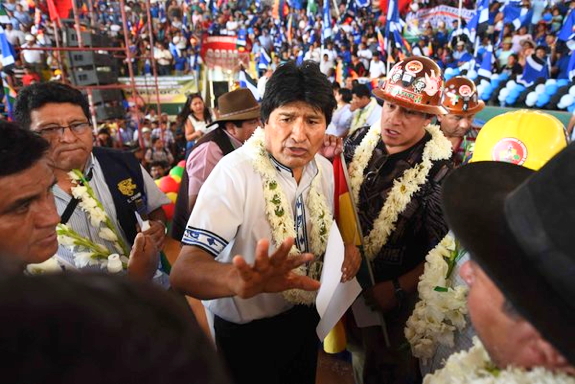 (above) Bolivia's president, Evo Morales, at a meeting of his political party in December. Bolivian News Agency, via European Pressphoto Agency
In Bolivia, an Entrenched President
January 11, 2017 - NYTimes
Editorial
Last February, President Evo Morales of Bolivia said he would respect the will of voters after he lost a referendum vote that would have made him eligible to run for a fourth term.
Nearly a year later, Mr. Morales and his allies in the Bolivian Congress are plotting to extend his time in office. Mr. Morales, who became president in 2006, is in the middle of his third term. He says that he has great plans for his country and that several more years are necessary to carry them out. The truth is that allowing him to stay in power would be an affront to the will of Bolivian voters and a step on the road to autocracy.
Under Bolivian law, the results of the referendum are supposed to be binding. Mr. Morales says they should be nullified by the electoral authorities because the referendum was tainted by a disinformation campaign intended to discredit him. Last month, his government showed a documentary it commissioned, titled "The Cartel of Lies," in movie theaters across the country. The film takes aim at press outlets that revealed that Mr. Morales's former girlfriend had steered state contracts worth hundreds of millions of dollars to her employer, a Chinese company.
The scandal was emblematic of the cronyism and corruption that has soured many Bolivians on Mr. Morales. But instead of acknowledging as much, the president's allies in law enforcement sent the woman, Gabriela Zapata, to jail in an effort to silence her.
Mr. Morales's party has announced that he would be at the top of the ticket during the 2019 presidential election. "If the people say so, Evo will remain with the people to continue to guarantee this democratic and cultural revolution," Mr. Morales told supporters at a rally last month. That statement left little doubt that he intends to remain in power beyond 2019.
Electoral authorities are unlikely to heed Mr. Morales's call to nullify the referendum results on the basis of the supposed disinformation campaign. But Bolivia's Congress, which is dominated by his party, Movement for Socialism, could change the Constitution. Either way, the likely outcome — a new term for Mr. Morales — would be bad for Bolivians.
Mr. Morales has already been in office longer than any other leader in the hemisphere. His policies have transformed the country's power structure by giving voice to the indigenous majority and reducing poverty. But his administration has been dogged by allegations of corruption and criticized for co-opting nominally independent institutions and cracking down on the press. These trends can only be expected to worsen if he manages to stay in office longer.
Correction: January 11, 2017
An earlier version of this editorial mistakenly said Mr. Morales has been in office longer than any other leader in the hemisphere. He is the longest serving leader in Latin America.