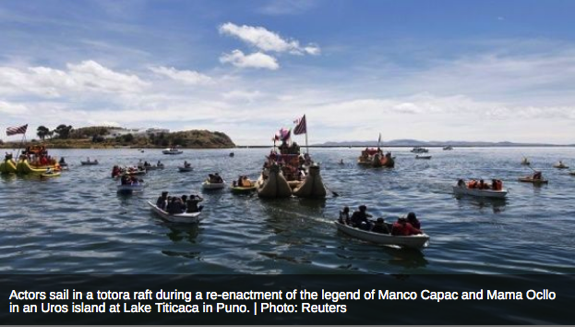 Bolivia and Peru Vow to Clean Lake Titicaca
January 14, 2017 - telesurtv.net
Last November the two South American nations agreed to launch a US$500 million plan to clean up the lake.
Peruvian President Pedro Pablo Kuczynski has announced a major cleanup project at Lake Titicaca, South America's largest lake located on the border of Peru and Bolivia.
RELATED:
Nanotech-Armed Peru Scientist to Battle Lake Titicaca Pollution

The project at the cross-border lake seeks to clean up years of uncontrolled pollution affecting the lake's biodiversity. Kuczynski said 10 treatment plants will be built for this task.
"We will execute this lake cleanup project, at the intakes of all the rivers that flow into the Titicaca and sewers. That way, the most beautiful lake in the world will also be the cleanest," he said.
Last November Bolivian President Evo Morales and Kuczynski agreed to start with the first part of the huge US$500 million plan to clean up the lake.
The uncontrolled expansion of factories and urban settlements near the lake has contributed to runoff that has turned the once-crystal blue waters a murky green and destroyed the livelihood of thousands of fishermen.
According to officials from Peru and Bolivia, each year some 750,000 tourists visit the 3,800 meter-high lake.
Pollution is evident as residents and visitors say the water has a weird foam layer on the surface and emits a rotten smell.