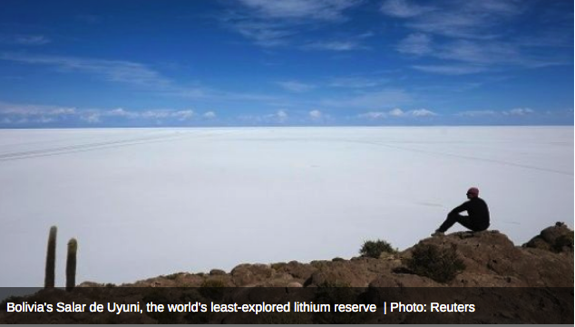 (above) Bolivia's Salar de Uyuni, the world's least-explored lithium reserve | Photo: Reuters
Bolivia Plans Lithium Mining for Clean Energy Industrialization
February 14, 2017 - telesurtv.net
The bill supports Bolivian President Evo Morales' ongoing eco-socialist industrialization campaign.
Bolivia's ruling Movement for Socialism, MAS, party is planning to create a state-run lithium mining company to help advance industrialization efforts using clean energy, Business News Americas reports.
RELATED:
Bolivia's Evo Calls on Mexico to Unite with 'Family in South'

MAS officials proposed a bill to Bolivia's Plurinational Legislative Assembly that would authorize the government to establish the National Strategic Public Enterprise for Evaporation Resources, EPNERE. The company would replace the state-run Bolivia Mining Corporation's lithium division.
The bill, which builds on Bolivian President Evo Morales' ongoing eco-socialist industrialization campaign, is expected to pass — MAS currently holds a 62 percent majority in the legislative body. The Plurinational Legislative Assembly's Chamber of Deputies is slated to debate the bill in coming weeks.
"Just as the oil-producing and exporting nations usually do, when we are able to increase the production of lithium, we will also establish the prices in the market," Morales said last week, Prensa Latina reports.

Bolivia currently holds 70 percent of the world's lithium reserves, MAS reports. The country's Salar de Uyuni, spanning over 4,000 square miles, is the world's largest salt flat. It's also the world's least-explored lithium reserve.
Morales added that extracts and profits from lithium production will be used to further industrialization plans, improving everything from energy infrastructure to mass transportation.
But lithium isn't the only natural resource that's powering Bolivia's eco-socialist revolution.
RELATED:
Locust Plague Strikes Bolivia, Damages Crops

Profits made from state-run natural gas, silver, tin, and soybean exports companies have allowed Morales and his MAS party to radically transform the country.
Upon taking office in 2006, Morales spearheaded nationalization efforts that transferred wealth from foreign mining companies like South American Silver and Jindal Steel over to the people of Bolivia.
In 2016 alone, 316 projects for drinking water, irrigation systems, infrastructure, health, transportation and river defense, as well as sewage and sanitation systems, were completed. The Bolivian government replanted 6 million trees across the country, as part of the "My Tree" program the same year in a campaign to combat deforestation and climate change.
Morales' administration has doubled government spending on environmental and social programs since taking office.