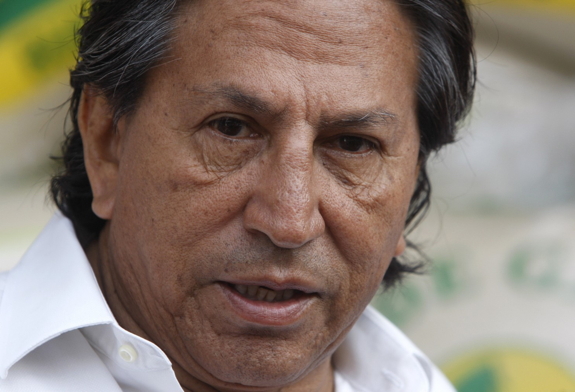 (above) In this March 17, 2011 file photo, Peru's former President Alejandro Toledo campaigns for reelection at the Santa Anita wholesale market in Lima, Peru. Peruvian authorities said they searched Toledo's house on Saturday, Feb. 4, 2017 in a case involving alleged bribes from a construction firm under investigation in a major corruption probe in Brazil. Toledo currently is in Paris and denied the charges by telephone to Peruvian media. (Karel Navarro, File/Associated Press)

Peru Attorney General seeks arrest of ex-President Toledo
February 7, 2017 - Washington Post

By Franklin Briceno | AP

LIMA, Peru — A major corruption scandal shaking politicians across Latin America continued spreading across the region Tuesday as Peru's attorney general sought the arrest of former President Alejandro Toledo on charges of laundering of assets and influence trafficking.
Toledo was believed to be in Paris. He has denied any wrongdoing in interviews with news media.
Peruvian prosecutors opened a formal investigation Monday into suspicions that the former president took $20 million in bribes from Brazilian construction firm Odebrecht, which is at the heart of the regional scandal. Prosecutors believe Toledo received the money in exchange for giving the firm permission to build a highway connecting Brazil with the Peruvian coast.

Attorney General Pablo Sanchez told a local radio station on Tuesday that his office would seek Toledo's arrest, saying the charges against the former leader were "serious and grave."
The office of prosecutor Hamilton Castro, who has been heading the investigation of Toledo, formally delivered the arrest request to a judge later in the day asking that the ex-president be ordered held in "preventative detention" for 18 months during the investigation.

"It is the maximum time allowed by law in Peru," Assistant Attorney General Sergio Jimenez told The Associated Press. He said investigating judge Richard Concepcion would hear arguments on the arrest request within the next 48 hours.
The alleged payments were believed to have been made through Toledo's friend, Peruvian-Israeli businessman Josef Maiman, who prosecutors said Monday they were also investigating along with the Odebrecht's former boss in the country, whose testimony triggered the probe.
The move came after police searched Toledo's home in Lima on Saturday.
Although he said he has plans to travel to Stanford University in California, where he is a visiting scholar, Toledo has said he would return to Peru as long as he could be assured of a fair trial.
"Say when, how and where and in what bank they've given me $20 million," an angry Toledo said in an interview with a local radio station over the weekend.

Toledo failed to win much support in a bid last year to regain the presidency, finishing in eighth place, but the idea that the pro-democracy activist who led street protest which forced strongman Alberto Fujimori's resignation might now be joining his arch-nemesis behind bars has come as a shock to many Peruvians.
"It's a betrayal to the Peruvian people," President Pedro Pablo Kuczynski, who served as Toledo's economy minister and prime minister, said in an interview over the weekend. "It's very sad."

Authorities in Peru and throughout Latin America have been moving fast to charge officials accused of taking some $800 million in bribes that Odebrecht acknowledged paying in a plea agreement signed in December with the U.S. Justice Department.
The bribes, used to win business in 12 countries, include some $29 million in Peru for projects built during the administrations of Toledo (2001-2006), Alan Garcia (2006-2011) and Ollanta Humala (2011-2016). So far three officials from Garcia's government have been arrested.