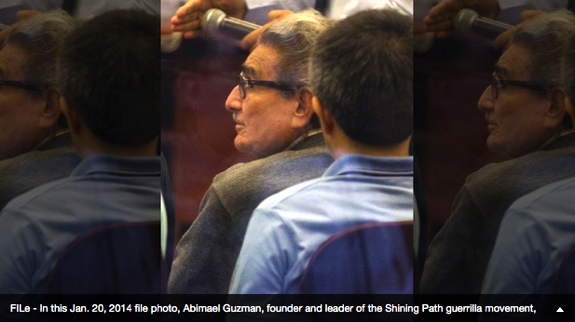 (above) In this Jan. 20, 2014 file photo, Abimael Guzman, founder and leader of the Shining Path guerrilla movement, second from the right, sits during his new trial at the Naval Base in Callao, Peru. Guzman is being tried on Tuesday, Feb. 14, 2017, for a 1992 car bombing in Peru's capital that killed 25 people and injured 155. The 82-year-old Guzman is already serving a life sentence for the killing of 69 people in the Andean village of Santiago de Lucanamarca in 1983.
(AP Photo/Martin Mejia, File) (The Associated Press)
Shining Path leader to be tried in 1992 deaths of 25 in Peru
February 14, 2017 - foxnews.com (AP)

LIMA, Peru – Imprisoned Shining Path leader Abimael Guzman is being tried for a 1992 car bombing in Peru's capital that killed 25 people and injured 155.

The 82-year-old Guzman is already serving a life sentence for the killing of 69 people in the Andean village of Santiago de Lucanamarca in 1983. The Maoist-inspired group began its fight against Peru's government in 1980 but was badly weakened by the 1992 capture of Guzman and many of its other leaders.
The latest legal process against Guzman began on Tuesday in a military prison. Prosecutors have called for another life sentence and an order of $122,000 in reparations for his alleged intellectual authorship of the deadly attack in a middle-class Lima neighborhood.
Guzman's lawyer, Manuel Fajardo, called the attack "lamentable" but said his client "had nothing to do with this issue."
The attack was part of a wave of car bombings in Lima that came as the Shining Path focused its attacks on Peru's capital.
A truth commission found that between 1980 and 2000, fighting among the Shining Path, Tupac Amaru Revolutionary Movement, the government and self-defense patrols left up 70,000 dead.

Analysts estimate the Shining Path has only 200 remaining fighters holed up the cocaine-producing region of the valley of the Apurimac, Ene and Mantaro rivers.