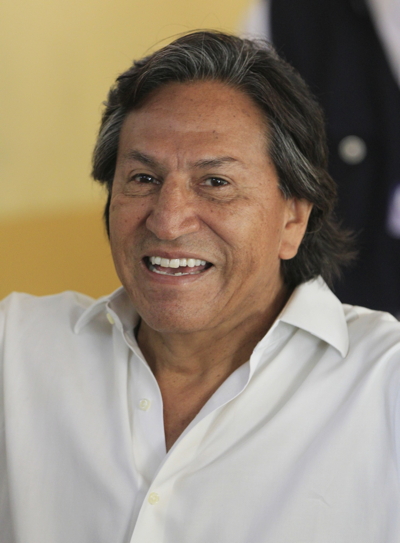 (right) In this April 10, 2011 file photo, then presidential candidate Alejandro Toledo smiles after voting in the general elections, in Lima, Peru. Israeli authorities say that they will not permit Peru's fugitive former president to enter the country if he attempts to do so. In a statement, Israel's Foreign Ministry said Sunday, Feb. 12, 2017, that Alejandro Toledo will be allowed into Israel once "once his affairs in Peru are settled." Toledo, who is accused of taking some $20 million in bribes, was believed to be in San Francisco over the weekend and possibly on a flight set to land in Israel later Sunday.
(Martin Mejia, File/Associated Press)
Peru's president asks Trump to deport fugitive ex-leader
February 12, 2017 - Washington Post

By Franklin Briceno | AP
LIMA, Peru — The leader of Peru asked U.S. President Donald Trump on Sunday to deport a former Peruvian president sought in the South American nation on suspicion of taking bribes as part of a regional corruption scandal.
President Pedro Pablo Kuczynski's office said the request was made to Trump during a phone conversation between the two men. The White House confirmed the talk, but did not mention Peru's deportation request. It said they discussed the need for strong economic group as well as the deteriorating humanitarian situation in Venezuela.
Last week, a Peruvian court ordered the arrest and detention of ex-President Alejandro Toledo as prosecutors investigate whether he took $20 million in payments from the giant Brazilian construction company Odebrecht.

Peruvian officials have said they believe Toledo is in San Francisco, where he has been researching a book as a visiting scholar at nearby Stanford University. Local media reported he had intended to fly over the weekend to Israel, where his wife has citizenship, until Israeli Prime Minister Benjamin Netanyahu's government said he would be denied entry. The Israeli Foreign Ministry said Toledo was not on a flight from San Francisco that landed Sunday night.
In a posting on his Twitter account late Sunday, Toledo denied that he is a fugitive, saying that "I have never run away." But he did not say where he was and did not say if he would return to Peru.

Authorities across Latin America have been moving fast to charge officials accused of taking some $800 million in bribes from Odebrecht. The company acknowledged the bribes when it signed a plea agreement in December with the U.S. Justice Department.
Used to win business in 12 countries, the bribes include some $29 million paid in Peru for projects built during the administrations of Toledo (2001-2006) and two of his successors. So far, three officials have been arrested.
Toledo, a former pro-democracy activist who led street protests that brought down former strongman Alberto Fujimori in 2000, is accused of receiving some $20 million in bribes from Odebrecht in exchange for favoring the company in a contract to build a major highway from Brazil to Peru's Pacific coast.
In a nationally televised address Sunday night, Kuczysnki called on Toledo to return immediately to Peru to clarify his legal situation. Earlier, Kuczynski thanked Israel's government for its support in a letter to Netanyahu.
The White House said Trump expressed concerns about developments in Venezuela. Kuczysnki, a 78-year-old former Wall Street banker, has spearheaded calls among Latin American leaders to punish Venezuela's socialist government for allegedly breaking with the nation's democratic order.
Kuczynski, a 78-year-old former Wall Street banker has seen his approval ratings fall as a result of a number of ethical slips by members of his Cabinet, though none of those cases are tied to Odebrecht.
In his address, he announced executive measures meant to strengthen Peru's fight against corruption. They include a bigger budget for prosecutors as well as rewards and protections for whistleblowers and a ban for life on contracting with the state for companies that engage in graft.

"We have to act relentlessly and immediately to stop the rot of corruption in Peru," the president said.
Kuczynski's calls for zero tolerance for corruption comes as prosecutors in the Odebrecht case want to speak with the president himself.
As Toledo's prime minister in 2006, Kuczynski signed a law passed by congress allowing Odebrecht to participate in an auction to build two highways despite a ban on it bidding for government contracts at the time because it was facing legal action for irregularities in another project. Odebrecht eventually was awarded the roads contract.
Kuczynski has denied any wrongdoing.
___
Associated Press writer Joshua Goodman in Bogota, Colombia, contributed to this report.