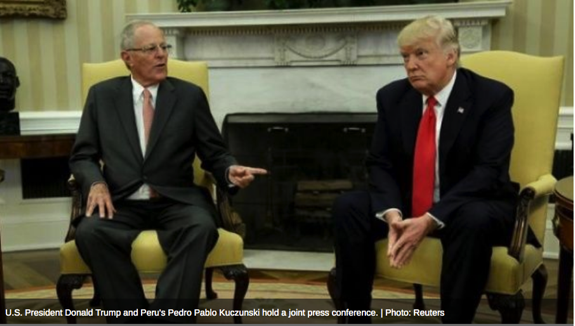 Peru's Kuczynski Says 'Latin America Is a Good Dog Sleeping'
February 26, 2017 - www.telesurtv.net
Kuczynski was the first Latin American leader to visit U.S. President Donald Trump at the White House — for a 12-minute conversation.

In a presentation titled, "A New Age for Latin America," at Princeton University after meeting with U.S. President Donald Trump, Peru's President Pedro Pablo Kuczynski said, "The United States focuses on those areas where there are problems. Like the Middle East. It does not invest much time in Latin America because it is like a good dog that is sleeping on the carpet that does not cause any problems."
OPINION:
On the Road to Reform: What are the Lessons Learned from Odebrecht in Latin America?

He stated the only exception was Venezuela, adding that at the XXV Iberoamericana Summit in October 2016, he told Venezuela's Foreign Minister Delcy Rodriguez that her "government was unsustainable and that it had to step aside. Obviously, she did not receive it very well."
Donald Trump and Kuczunski met for a total of 12 minutes Saturday, spending only "a few seconds" addressing the case of Peru's former President Alejandro Toledo, who is a fugitive living in the U.S. facing corruption charges in Peru.
Responding to reporters after his meeting with Trump, the Peruvian head of state said, "This is a matter of the judiciary that was not discussed for more than a few seconds," adding that Lima does not plan to demand the U.S. detain Toledo.

Two weeks ago, Kuczynski asked Trump for Toledo's deportation over the phone, as a better alternative to his arrest and eventual extradition.
Toledo, who is currently living in San Francisco, is wanted in connection with a far-reaching graft probe and has denied prosecutors' allegations that he took US$20 million in bribes from Brazilian construction company Odebrecht S.A.
RELATED:
Peru President's Approval Rating Slips to 38% amid Graft Probe

Kuczynski once joked that he would cut off ties with the U.S. if Trump were elected president, but quickly did an about-face and congratulated Trump once he won and described their talk on Friday as "cordial and constructive."
Kuczynski declined to comment specifically on Trump's proposal to build a wall along the U.S.-Mexican border to curb illegal immigration and drug trafficking in a press conference following the meeting.
"I don't want to get into the wall," Kuczynski, a former Wall Street investment banker said in a video distributed by his office. "We're interested in the free movement of people ... I emphasized that to President Trump and we prefer bridges to walls."
On migration, Kuczynski said he emphasized to Trump that only 70 Peruvians out of 1 million living in the United States are in jail, 200,000 of whom are undocumented.
"Peru has not exported criminals to the United States," Kuczynski said. "They're nurses, they're doctors, they're all sorts of people."