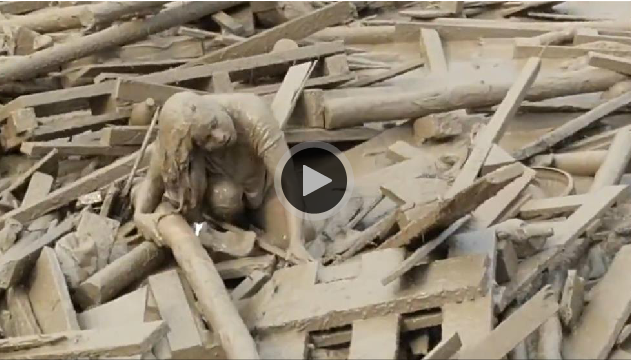 (click to go to original article to see video at start of article) Watch the Dramatic Moment a Woman Emerges From Muddy Floodwaters. Amidst cows struggling to stay afloat in the muddy floodwaters, a dramatic moment is caught on video when a mud-soaked woman, Evangelina Chamorro Díaz, emerges with only minor injuries.
Watch a Woman's Dramatic Escape From Mudslide
March 17, 2017 - National Geographic
Floodwaters sweeping through Peru created a mudslide that pulled Evangelina Chamorro Díaz into a dangerous current.

By Sarah Gibbens
Amid muddy floodwaters and swirling debris, Evangelina Chamorro Díaz emerged with only a few minor injuries.

Dramatic footage captured by local man Christian Jesus Hidalgo Medina showed her harrowing escape. The surprising moment when Díaz seemingly emerged out of nowhere occurred when Medina was filming muddy floodwaters cascading through Punta Hermosa near Lima, Peru.
The video initially shows a cow (that eventually reached safety) struggling to unstick its legs from fast-moving mud and water. Sharp wooden pallets and a large shipping container are seen being swept downstream, pulled forcefully by the floodwaters.
The shipping container, an object that could have crushed whomever crossed its path, was perhaps a lifesaver. The video shows the moment when it becomes lodged under an overpass, slowing the fast-moving water and allowing Chamorro to grab hold of a large trunk and pull herself from its grip.
"She is a little confused, but she is very well and will recover because she is a warrior and thank God nothing serious happened," Peru's health minister Patricia Garcia told The Guardian.
In a press conference with local media, Medina claimed that Chamorro does not remember any of her ordeal. She told Peru's RPP radio that she and her husband had been feeding their pigs when they were pulled into a landslide. In an attempt to escape, they climbed a tree but were thrown back into the water and separated when the tree snapped.

Chamorro and her family are lucky to be alive, but the same can't be said for all who have encountered Peru's deadly floodwaters.
The Associated Press is reporting that 62 people have been killed and 12,000 homes destroyed by torrential rain causing mudslides and flooding in Peru. Roads and bridges have also suffered massive damage, making it more difficult for those affected to escape. Emergency response teams are now resorting to helicopters to rescue those whose escape routes have been blocked.
Lima, a desert city that does not typically see this amount of rain, has been only one of many Peruvian cities plagued by unusually high amounts of rain. El Niño weather patterns, in which the Pacific Ocean experiences warm water currents, have caused rivers to overflow.
This year's especially destructive El Niño weather pattern has been branded "El Niño Costero," or "coastal child."
The National Oceanic and Atmospheric Administration currently states that El Niño weather patterns in the eastern Pacific ocean are neutral, however, warmer waters have been recorded off the western coast of South America.
Authorities in Peru are expecting the flooding to continue for two weeks.