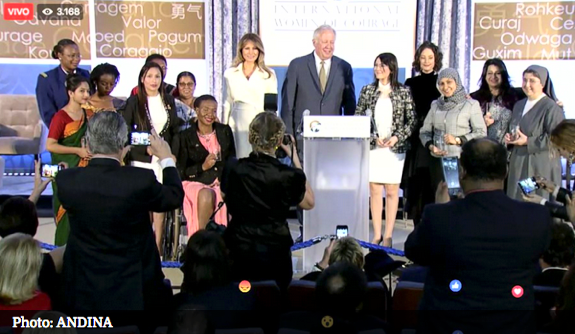 (above) Credit: Andina
U.S. First Lady grants Women of Courage Award to Peru's Arlette Contreras
March 29, 2017 - Andina
Lima, Mar. 29. U.S. First Lady Melania Trump presented the 2017 Secretary of State's International Women of Courage Award to 12 women from around the globe, including Peru's Arlette Contreras.

Footage showed Contreras being brutally beaten by her former partner, Adriano Pozo, at a hotel in her hometown of Ayacucho back in July 2015. Images spread nationwide.

Today, the Peruvian lawyer was honored for her attempt to find the courage to change the world and fight for her rights and those of others.

In a ceremony held at the U.S. Department of State in Washington D.C., Mrs. Trump noted these honorees have fought for their rights and for the rights of mankind; each battled forces such as governments, the courts, gender bias, terrorism war and corruption.

"I am deeply humbled to be here today to honor these 12 remarkable and inspirational women who have given so much for so many, regardless of their unimaginable threat to their own personal safety," the First Lady stated.

"Each one of these heroic women has an extraordinary story of courage, which must inspire each of us to also achieve more than we have ever imagined possible," she added.

Donald Trump's wife urged the audience, mainly the youth, to envision themselves in their place. "Ask yourselves if you would have the fortitude of spirit, the courage of your convictions and the enormous inner strength required to stand up and fight against such overwhelming odds."

She addressed young people at the event and urged them not to be afraid to fail as long as they learn from failure.

During her presentation, the moderator recognized Contreras' efforts to turn her own personal tragedy into a national cause, which eventually led to her launching of the "Not One Less" movement to raise awareness on gender-based violence and promote respect for women.

Via Twitter, Peru's Women Minister Ana Maria Romero praised Contreras for being the first Peruvian woman to receive this international award.

The honorees will travel to cities across the United States to engage with the American people through an International Visitor Leadership Program.

They will visit Atlanta, Denver, Des Moines, Minneapolis, New York, Pensacola, Pittsburgh, Portland, San Diego and Tampa on their individual programs. The women will reconvene in Los Angeles to reflect on their visit and discuss ways to work together to improve the lives of women and girls around the world.