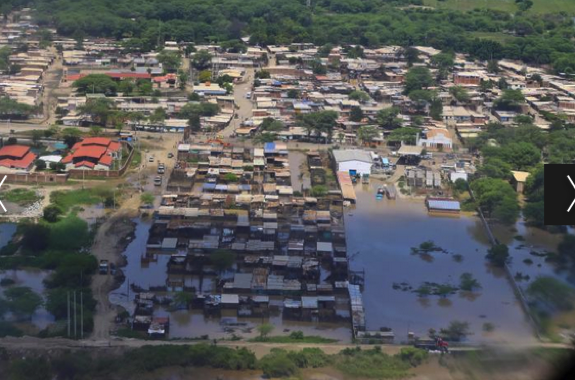 Click to go to gallery of seven photos at first of original article.
(above) Peru's President Pedro Pablo Kuczynski on a helicopter observes floods in Piura, northern Peru, March 28, 2017. Luis Guillen/Presidential Palace/Handout via Reuters
Floods in Peru threaten to sweep away rich archaeological legacy - explorer
March 29, 2017 - Reuters
By Marco Aquino | LIMA
Extreme floods wreaking havoc in Peru are also threatening the South American country's rich archeological heritage and the tourism that thrives on it, a Peruvian archaeologist said on Tuesday.
At least 50 archaeological sites in Peru have been damaged by the intense rains that are battering northern Peru, resulting in a drastic drop in related tourism, said archaeologist and explorer Walter Alva.
Alva discovered the tomb of Peru's "Lord of Sipan" in 1987, a gold-adorned find that established the Moche culture as one of Peru's rich coastal civilizations that flourished long before the Incan Empire in the Andes.
Some researchers believe that Moche society collapsed because of an El Nino event and other climate changes during their rule from 200-700 AD, a reminder for some of the challenges now facing Peru due to unpredictable weather.
A sudden warming of waters off Peru's coast this year, as well as an unusual easing of trade winds, have unleashed torrential downpours that have killed dozens of people and displaced more than 100,000 in recent weeks.
Alva said two pyramids out of some 20 at the Bata Grande archaeological site are under imminent threat due to flooding in the northern region of Lambayeque.
Day-long downpours in recent weeks have beaten rainfall records in several districts in Peru's northern coastal region, which is home to scores of archaeological sites that date back to 1,500 years B.C.
"All of the main historic monuments are being impacted by the erosion they're suffering from because of the rains and overflowing rivers," Alva told Reuters by telephone.
People have made the flooding worse by trying to divert the natural flow of rivers, a practice that led to La Leche River bursting its banks near Batan Grande.
The 1,700-year-old tomb of the Lord of Sipan should be able to resist the floods because a drainage system has been installed. However, visits to the Lord of Sipan museum have dropped by 80 percent because much of the region's infrastructure has been destroyed.
(Reporting by Marco Aquino; Writing by Mitra Taj; Editing by Paul Tait)