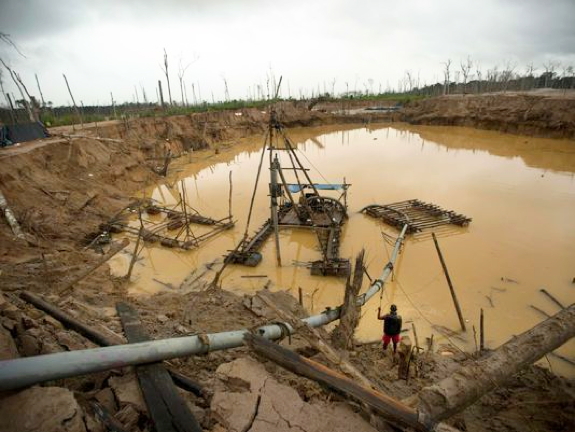 (above) Photo: Rodrigo Abd, AP
Peru's illegal gold mines are devastating the Amazon rain forest
April 1, 2017 - USA Today
Max Radwin, Special for USA TODAY

QUINCE MIL, Peru — The roads cutting through the Amazon rain forest are lined with signs encouraging people to protect Peru's natural resources and take care of the environment, but people aren't sure why the government posts them anymore.
Many rivers in Peru run orange with pollution from illegal gold mining, and trees were cut away to make room for sifting towers and excavators.
Peru, the largest gold producer in Latin America and the sixth largest in the world, has long struggled with illegal gold mining. Thousands of small, unchecked operations extracting gold from the Amazon are responsible for nearly 200 square miles of deforestation and mercury poisoning to the water so severe that several regions declared a state of emergency last year.
President Pedro Pablo Kuczynski took office in July promising to tackle the problems of "informal," or illegal, mining with an ambitious plan to overhaul antiquated and inefficient government rules. He imposed stricter environmental regulations, streamlined the process to grant permits for legal mines and offered financial incentives for mining operations to submit to government oversight.
But the miners resist those changes because of a thriving black market for gold.
"The whole country is like a Mafia. It's a big Mafia," Marcos Llovera, 40, of Cusco, said about the gold mining industry. "How are you going to win against a Mafia? You can't."
Llovera runs a mine in this small town of Quince Mil, using one rented excavator and one sifter. He sells the extracted gold to international contacts based in Lima, the country's capital.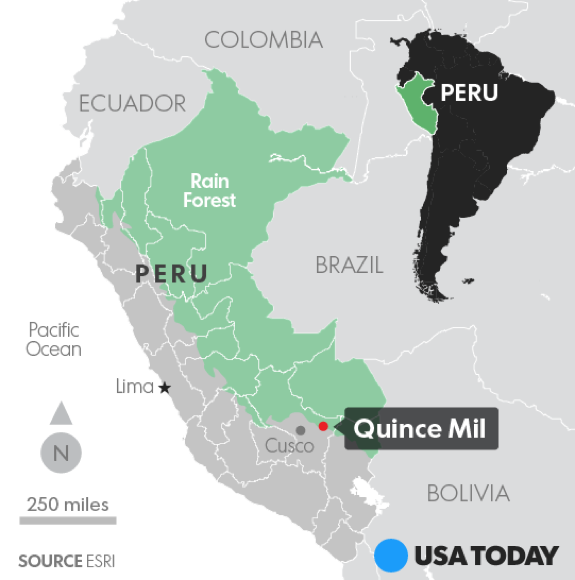 The process left large pockets of the area bald of vegetation, eroded riverbanks and turned the water brown, orange and even a light blue, as Llovera and competing "informal" miners push their excavations deeper into the jungle. This unrestricted mining is the type of activity that Kuczynski is aiming to cut in half by 2021.
Llovera's mine, like most small operations across Peru, works informally because of an administrative loophole. He received authorization from the federal government to break ground, but can work without oversight because many environmental and operational permits are handled on the regional level.
Miscommunication between government agencies means small mines, such as Llovera's, can operate in bureaucratic limbo while officials scramble to determine which are legal, who is responsible for enforcement, and what to do about pollution produced from the mining.
A law went into effect in March to simplify the process by cutting the required federal permits from six to three. Many other regulations were tweaked to improve oversight of machinery use and access to water, but the number of "informal" mines shows no sign of decreasing.
Kuczynski has tried to persuade miners to submit to government oversight and met with workers in the mineral-rich region of Madre de Dios last year to establish regular talks. But only 114 of 70,000 miners who agreed in September to formalize and become legal have actually done so.
"There's no willingness to formalize in those mining sectors," said Julia Cuadros Falla of the environmental advocacy group CooperAcción, which fights illegal mining in Peru. "No one is interested in formalizing."
Cuadros said attempting to "make deals" with miners and cleaning up the permit process are the wrong approach since environmental exploitation and tax evasion have been key to successful small-scale mining for decades.
She argued that Kuczynski's administration needs to improve coordination between federal and regional agencies because all levels of the government that try to protect the Amazon have ceased to effectively work together.
Many high-traffic gold trade routes to Chile, Bolivia, Ecuador and Brazil that were shut down since Kuczynski took office have already been replaced by new ones.
"The laws exist, but there isn't effective action being taken to enforce them," said Marta Ojeda, an official with the National Forest and Wildlife Service in the Quispicanchi-Cusco District.
She said her office tries to disband mining operations that use unauthorized heavy machinery and fines them for cutting down trees or polluting the water, but such moves often fail to make a lasting impact without coordination with other agencies.
The Peruvian army occasionally comes into the area to blow up unguarded mining equipment, but Ojeda said she never knows when that is going to happen, much less what to do with the destroyed equipment left to rot in the jungle.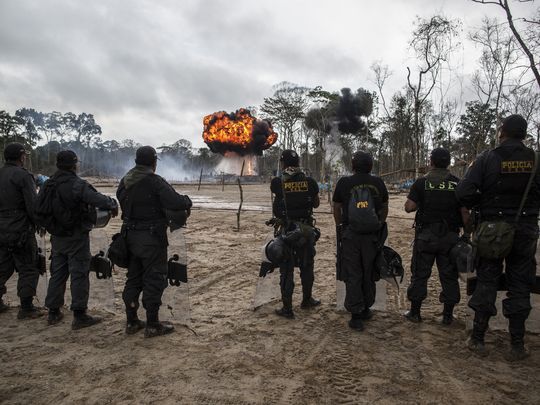 Policemen look at the destruction of camps and pumps used for illegal gold mining in Mega 13, Madre de Dios region, Peru, on Jan. 25, 2014. (Photo: AFP/Getty Images)

"As a forestry organization, we just apply the laws," she said. "But we should have everything organized with (other agencies) so that we can combat the problem."