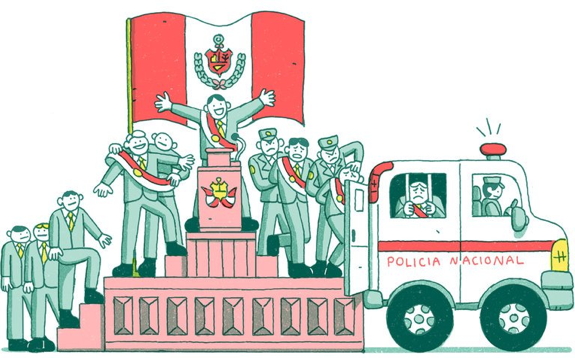 Photo Credit: Wren McDonald
Does Peru Need a Special Prison Just for Ex-Presidents?
August 7, 2017 - NY Times
By SONIA GOLDENBERG

LIMA, Peru — As Peru prepares for the bicentennial of its independence from Spain in 1821, instead of looking forward with optimism, it is contemplating a dismal political landscape: Four of its former presidents are in jail or fugitives from justice for human rights crimes or corruption. A world record? Probably, but hardly one to celebrate.
In response, in his annual address to the nation late last month, the current president, Pedro Pablo Kuczynski, promised a crusade to rebuild the country after devastating floods and a huge corruption scandal, which together have shattered prospects of economic growth and further undermined the trust of Peruvians in the presidency itself.
All four presidents have left their imprint on the country's history and justice.
First, Alberto Fujimori, Peru's autocratic ruler from 1990 to 2000, was sentenced in 2009 to 25 years in jail for human rights violations in the fight against the Shining Path guerrillas and later convicted of embezzlement and corruption. He was recently joined in the Barbadillo Lima prison by Ollanta Humala, Mr. Kuczynski's predecessor, after a judge ordered that he and his wife, Nadine Heredia, serve 18 months of pretrial detention while being investigated on money-laundering and conspiracy charges. Mr. Humala is also accused of extrajudicial killings during his time as an army captain at a remote jungle base in the 1990s.
Another former president, Alejandro Toledo, who served from 2001 to 2006 and brought democracy back after Mr. Fujimori, is fighting extradition to Peru, presumably from his home in Palo Alto, Calif., where he was once a visiting professor at Stanford University. Mr. Toledo is charged with taking $20 million in kickbacks from the Brazilian construction giant Odebrecht, which is at the heart of the corruption scandal that is rocking Brazil.
And last, in January a court in Rome sentenced Francisco Morales Bermúdez, Peru's military dictator from 1975 to 1980, to life imprisonment for his role in the deaths of 23 people with Italian citizenship living in Latin America. They died during Operation Condor, a campaign of political terrorism carried out by right-wing dictatorships in South America with the technical and military assistance of the United States. Mr. Morales, who will not be imprisoned because of his age, is the only sentenced president who was not elected.

Peruvians are dismayed at having given their votes to so many presidents who have ended up being prosecuted as criminals. The only living former head of state not incriminated so far is Alan Garcia, who served two terms, from 1985 to 1990 and from 2006 to 2011, and ironically has a legendary reputation for corruption that has haunted him for decades. But he is also under investigation for financial irregularities in the construction of the Lima Metro by, once again, Brazil's Odebrecht conglomerate.