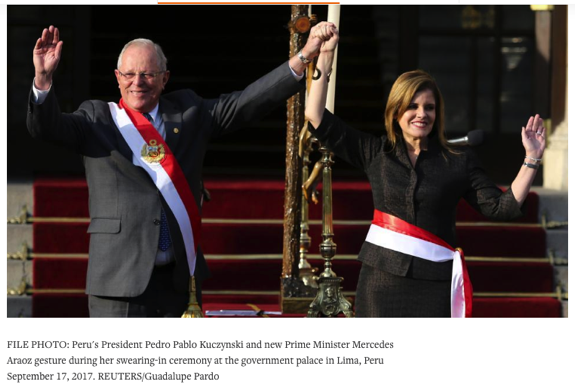 Peru opposition-ruled Congress approves Kuczynski's new cabinet
October 13, 2017 -Reuters
Congress, dominated by the right-wing Popular Force party, ousted Kuczynski's previous cabinet in September in a dispute over a teachers strike and school curriculum that emphasizes gender equality.
In response, Kuczynski formed a more socially conservative cabinet led by Prime Minister Mercedes Araoz, one of his vice presidents and a lawmaker in his party.
Several opposition lawmakers wished Araoz' cabinet luck during more than 14 hours of debate before the vote of confidence.
Kuczynski, a 79-year-old former Wall Street banker, took office in July 2016 promising to modernize Peru and strengthen its economy. But his first year in office has been marked by clashes with Congress and slowing economic growth.
Araoz told local broadcaster RPP on Friday that the government is planning to revise tax policies to look for ways to close loopholes that have dragged on public revenue.
Araoz said on Thursday that she is going to ask Congress to grant her cabinet special powers to legislate economic policies.
Reporting By Mitra Taj and Ursula Scollo; Editing by Steve Orlofsky