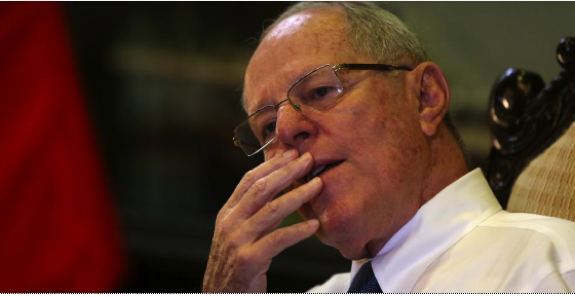 (above) Peru's President Pedro Pablo Kuczynski speaks during an interview at the Reuters Latin American Investment Summit in Lima, Peru August 11, 2017. REUTERS/Mariana Bazo
Approval of Peru's Kuczynski falls to new low amid strikes
August 13, 2017 - Reuters
Reuters Staff
LIMA (Reuters) - Approval of Peruvian President Pedro Pablo Kuczynski fell five points to a record low this month on a weak economy and a rash of labor strikes, a poll showed on Sunday.

Kuczynski's approval fell to 29 percent in August from 34 percent in July, its third consecutive decline, pollster Ipsos Peru said in a survey published in national newspaper El Comercio. Disapproval of the 78-year-old president, a former Wall Street banker and World Bank economist, climbed six points to 64 percent.
"The survey finds the reasons for this disapproval to be disillusionment at the first year of the government and a wave of strikes that the country has faced," Ipsos Peru Director Alfredo Torres told the paper.
Peru's economy over the last year has suffered because of massive floods, as well as fallout from a major corruption scandal involving Brazilian builder Odebrecht [ODBES.UL]. In the last month, doctors, teachers, miners and other groups have gone on strike, further damaging the reputation of the centrist leader.
The strikes "are probably the main explanation for the malaise that this poll shows," Torres said, emphasizing that approval of the nation's economy and education ministers fell as well.
In an interview on Friday, Kuczynski told Reuters that recovering internal credit and increasing prices for key exports copper and gold would likely boost economic growth in the coming months.
The Ipsos Peru poll surveyed 1,298 people between August 9 and 11. It has a margin of error of 2.7 percentage points.
Reporting by Teresa Cespedes; Writing by Gram Slattery and Andrew Hay