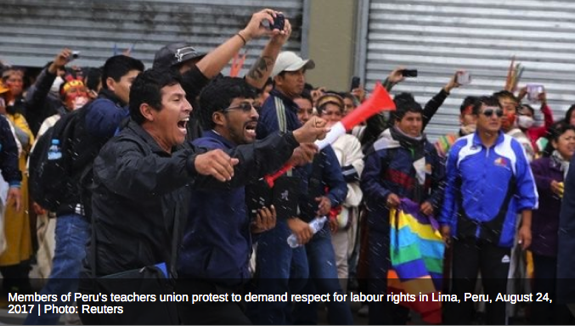 Peru's Teachers Temporarily Suspend Strike, Vow Fight Isn't Over
September 2, 2017 - telesurtv.net
The teachers emphasized that their decision was not a result of talks with the Peruvian Ministry of Education.
Teachers in Peru, who have been striking against lack of funds since July 12, have temporarily called off their indefinite strike.
After meeting with their regional union bases, they agreed to voluntarily suspend their action, emphasizing that the decision was not a result of dialogue with the Peruvian Ministry of Education.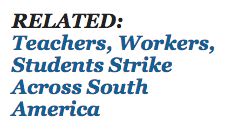 They plan to return to classrooms on September 4, having taken into consideration the number of students who have missed lessons during the strike.
More than 70 percent of public primary and secondary schools in the country have been affected.
Teachers' unions have held several rounds of talks with the government to demand their rights, but no definitive agreements have been reached.
The last meeting between both parties was held on Monday, but failed to produce any progress on their demands.
They want better pay and conditions as well an end to contentious classroom evaluations of staff.
Previously, the Ministry of Education had reached an agreement with several regional leaders to increase the minimum wage for teachers to US$615 a month by December, which was still less than their counterparts in neighboring Ecuador and Colombia.

Rogelio Tucto Castillo, a politician in the city of Huánuco who supports the teachers, says the strike's suspension does not mean a "retreat in their fight".

The government had also agreed to complete a study in four months time, examining the strikers' demands for salaries to rise to US$1233 by 2021.
Some of the unions involved have been accused of having links with the Shining Path guerilla group, which they have rejected, arguing that such claims are part of a strategy designed to stigmatize their members, and deny their political rights.