Kuczynski Names New Peru Cabinet After Clash With Congress
September 18, 2017 - Bloomberg
By John Quigley
• Vice President Mercedes Araoz brought in to head cabinet
• Deputy Economy Minister Claudia Cooper named finance minister

Peru's President Pedro Pablo Kuczynski reshuffled his cabinet and turned to his vice president, Mercedes Araoz, to lead the ministerial team after Araoz's predecessor received a no-confidence vote from Congress.
Araoz, a governing-party lawmaker, was sworn in as cabinet chief during a ceremony Sunday at the presidential palace in Lima to replace Fernando Zavala. Deputy Economy Minister Claudia Cooper was named finance minister, a post Zavala had also held since June. Kuczynski also appointed new education, justice, health and housing ministers.

Peru's entire cabinet was forced to resign after Zavala lost a Sept. 15 confidence vote he'd called to stop the opposition-controlled Congress from forcing out a fourth minister in less than a year.

Kuczynski is the nation's first leader to govern without a majority in Congress. The appointments are an attempt to address concerns that the previous cabinet had too many technocrats who lacked political experience.

In addition to Araoz, who was finance minister and trade minister during the 2006-2011 term of former President Alan Garcia, Kuczynski appointed Carlos Bruce, another ruling-party lawmaker, to the post of housing minister. They bring to four the number of lawmakers in the 19-member cabinet "which will improve relations with Congress a lot," Bruce told Lima-based Radio Programas.
Peru's currency rose 0.1 percent to 3.247 per U.S. dollar at 10:35 a.m. in Lima. The sol fell the most in four months on Sept. 15 after the no confidence vote.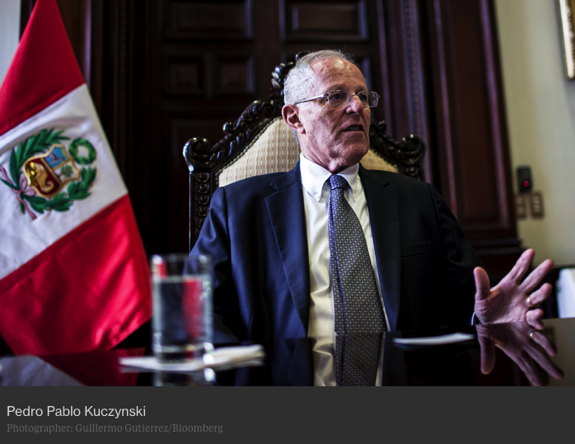 Opposition leader Keiko Fujimori, who narrowly lost last year's presidential race, called on Kuczynski in July to make changes to his cabinet amid a protracted teachers' strike that ended this month. That call was echoed by members of Kuczynski's own party this month amid a slump in the president's approval rating.
Kuczynski reappointed the remaining cabinet members to their previous posts. Fujimori said via Twitter she welcomed welcomed the cabinet changes. Fuerza Popular lawmaker Hector Becerril said Araoz will be able to seek consensus and avoid confrontation with other parties, El Comercio newspaper reported.

Veronika Mendoza, a left-wing former presidential candidate, said via Twitter Kuczynski named a cabinet to placate Fuerza Popular and Garcia's Apra party while "turning his back on the people."
Araoz now has to seek Congress' blessing for the new cabinet. She told reporters Sunday she'll likely request a vote of confidence in the first week of October.
The cabinet changes signal policy continuity and are unlikely to generate much enthusiasm among the general public, said Fernando Rospigliosi, a former campaign adviser to Kuczynski. Tensions between the government and Fujimori's party are likely to resurge in the coming months unless the administration garners more public support.
"Fuerza Popular's strategy is to weaken the government and that's not going to change," he said by phone from Lima. "They'll only be more careful about attacking if there's an improvement in the government's popularity."