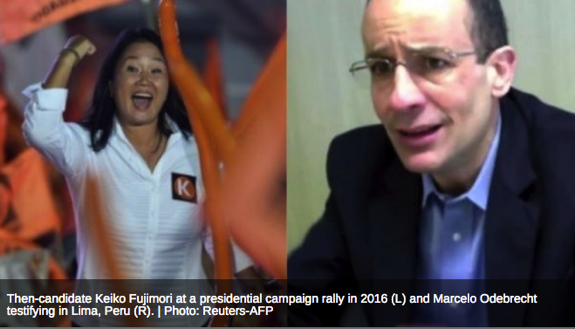 Peru Seeks to Question Odebrecht on Illegal Funding of Keiko Fujimori Campaign
September 18, 2017 - telesurtv
The Peruvian prosecutor has requested that Marcelo Odebrecht face interrogation for his past comments regarding former presidential candidate Keiko Fujimori.
The Peruvian prosecutor Jose Domingo Perez has requested that Brazilian businessman Marcelo Odebrecht be questioned for more information about his comments regarding the former presidential candidate Keiko Fujimori, who was mentioned in notes during his own interrogation.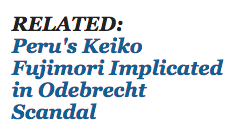 On the official Twitter account of the public prosecutor's office, Perez requested that the former president of the construction conglomerate testify to clarify information on Keiko Fujimori submitted in the summons.
Transcripts delivered to the Public Prosecutors office in August, show a message from Odebrecht's cell phone which mentions the name "Keiko".
Fujimori ran for Peru's top office in 2011and 2016. She is also the daughter of former president Alberto Fujimori, who ruled the country from 1990 to 2000. He is currently serving a 25-year prison sentence for human rights violations and corruption.
During her 2011 campaign, Keiko Fujimori was accused of illegal campaign financing while members of the right-wing Popular Force party which she founded and still leads have faced charges of colluding with drug traffickers.
Odebrecht, who remains incarcerated in Brazil on a 19-year sentence, told Peruvian prosecutors in May that he had financed most, if not all of the 2011 presidential candidates in the country through local subordinate Jorge Barata.

The leader of the Popular Force has repeatedly stated that neither she nor her bank received money from the Brazilian construction company or as a favor on the part of Marcelo Odebrecht.
Despite that, Odebrecht told the prosecutors that he thought Fujimori would win and should be given more funding than to mitigate any danger of losing the elections. "I even made a little note at that time, 'Send Keiko more support,'" he said in documents obtained by the Peruvian publication IDL-Reporteros .
The prosecutor's office also announced that the request to investigate potential money laundering was made at the office of Peru's attorney general in charge of international judicial cooperation and extraditions.