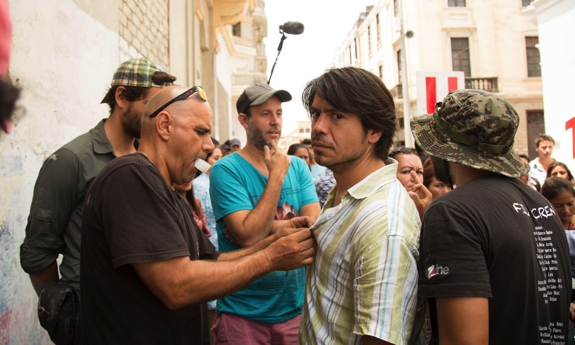 (above) The shooting of La Hora Final, with the actor Pietro Sibille and director Eduardo Mendoza de Echave. Photograph: Catorce & Seis
'Time has created distance': Peru's film-makers take on country's long conflict
November 1, 2017 - The Guardian
A wave of domestic cinema is setting its sights on the internal clashes of the 1980s and 90s, still a highly divisive topic: 'People haven't wanted to look back'
by Dan Collyns in Lima

The camera zooms in on two lovers embracing on a park bench, the man looking anxiously over the woman's shoulder at the doorway of nearby house. Nearby in a corner shop, a long-haired man peers over his sandwich in the same direction.The tense scene from a new Peruvian thriller is based the true story of how years of undercover police work led to the capture of the most wanted man in Peru's recent history.
La Hora Final, or The Final Hour, depicts the painstaking intelligence work which led to the 1992 capture of Abimael Guzman, the messianic leader of the Shining Path, a Maoist rebel group whose massacres and car bombs pushed Peru to the brink of collapse.
Despite its gritty subject matter, the film has been a surprise hit, vastly exceeding predicted audience numbers with nearly 250,000 viewers.
It has become the most successful Peruvian movie in 20 years, and is the most prominent work in a new wave of home-grown cinema focussing on the country's brutal internal conflict in the 1980s and 1990s.
(below) Magallanes, starring the Mexican actor Damian Alcazar. Photograph: Tondero Films/Handout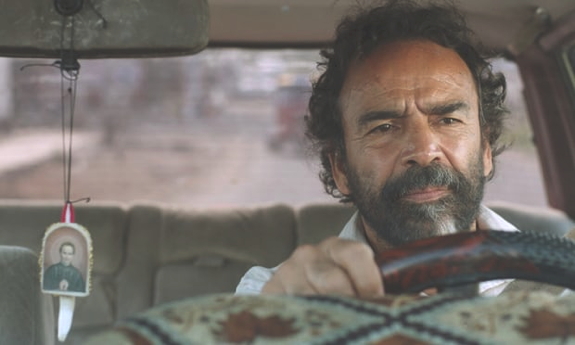 Some, such as the award-winning NN and Magallanes, have confronted deeply contentious subjects such as forced disappearances and sexual violence; others, such as La Ultima Tarde, have dared to humanize the protagonists of the conflict, while Avenida Larco uses Peru's 1980s underground rock scene to explore the traumas of the period.

The conflict remains a divisive political issue: 69,280 Peruvians were killed by rebels or state security forces in the two-decade conflict, according to the 2003 findings of a Truth and Reconciliation Commission.
But the role of the state in human rights crimes is still fiercely disputed by rightwing politicians and public discussion of the period remains muted.
"There's a lot of ignorance about what we lived through. People haven't wanted to look back and it's virtually absent from curricula at schools and universities," said La Hora Final's director, Eduardo Mendoza de Echave.
"But we are seeing parents return to see the film with their teenage children. The film is being used a pretext so that families can touch on the issue," he added. "If there's no remembrance, it's impossible for reconciliation to exist."
The film's heroes are the plain-clothed police officers who seized the terror leader in a bloodless operation – a notable exception in the bloody conflict.
Mendoza financed the film partly through prize money for its award-winning script and the rest with three bank loans. He hopes he might break even on the $350,000 cost of production.
While Mendoza's movie is a story of triumph, La Ultima Tarde reflects on the errors of an ideologically driven youth through the story of two former members of another rebel group – the Tupac Amaru Revolutionary Movement, or MRTA – who meet again after 19 years to sign divorce papers.
Such a humanizing portrait of former militants would have been unthinkable until recently, said its director, Joel Calero.
"Only now has time created a certain distance so that we – directors, novelists – can rummage around in the more subtle and least evident aspects of this process [of reconciliation]," he said.

(below) Director Héctor Gálvez during the shooting of NN. Photograph: Courtesy Héctor Gálvez/Handout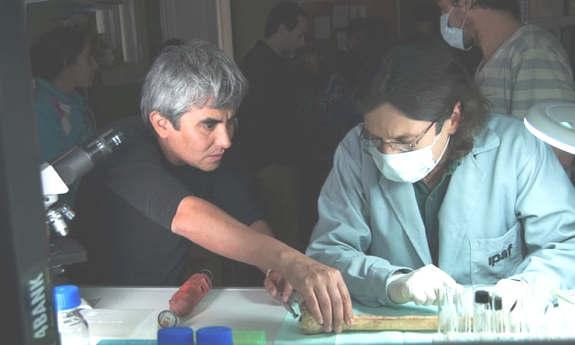 Another film, NN, dramatises the unfinished process of post-conflict exhumations, with the story of a forensic anthropologist who becomes obsessed with identifying a young woman whose photo is found with a buried body. The director Héctor Gálvez's film was selected by Peru as its entry in the best foreign film category of the 2015 Academy Awards.

NN – which refers to the "no name" label given to unidentified remains – was inspired by a true story. It was shot in six weeks and cost less than $300,000 to make. Making the film was only possible with international funding, Gálvez said.
"There's no censorship but for a big sector of the public this topic is of no interest. 'Why do you want to talk about the past?' they say. But what interests me is not just what happened but the impact it has on families living today," Gálvez added.
Peru still lags behind Latin America's film-making giants, Argentina and Brazil. In 2014, domestically made films represented 5.5% of movies screened in Peruvian cinemas, compared with 38.3% in Argentina.
But domestic film production is growing, said Pierre Vandoorne, director of DAFO, which promotes multimedia production at Peru's culture ministry, and increasingly it's tackling the painful, and often controversial, subject matter.
"No matter how difficult those years were, they were the years when a lot of people making films now were kids," he said. "Some look at that time with nostalgia but also the need to reflect on a period which was traumatic."