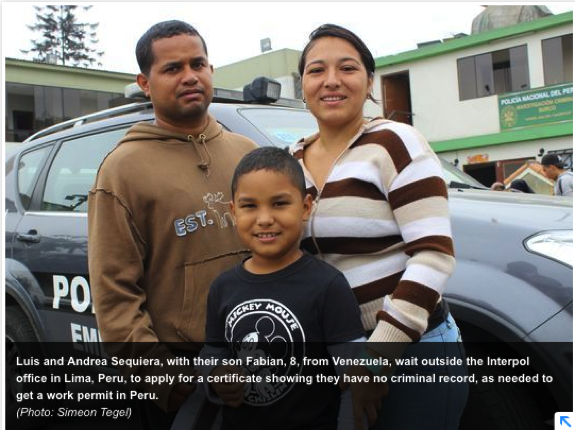 Flood of Venezuelans are fleeing depressed country. Here's where they're seeking refuge
December 14, 2017 - USA Today
Simeon Tegel - Special to USA Today
LIMA, Peru — It is 8 a.m. and the line of Venezuelan refugees outside the Interpol office already stretches to the end of the block.
Most have just arrived in Lima with not much more than the clothes on their back and are here applying for a certificate to show they have no criminal record, a requirement for a work permit in Peru.
"Leaving was tough, but staying would have been tougher," said Andrea Sequiera, 29, as she waits at the back of the line with her husband Luis, 31, and 8-year-old son Fabian. "We know lots of people who would like to get out of Venezuela but can't afford the ticket."
Although Venezuelans for years have been fleeing the "socialist revolution" first launched by the late Hugo Chávez in 1999, in recent months the trickle has turned into a flood as living conditions become ever more dire — from hyperinflation to acute shortages of food and medicine to one of the worst homicide rates in the world.
In response to protests over the once-wealthy country's seeming demise, President Nicolás Maduro's increasingly authoritarian regime has cracked down on opponents, making prospects for improved times less and less likely.
While many exiles had fled to the United States, surging numbers, like the Sequieras, now head to other Latin American nations. The change probably stems from President Trump's tough anti-immigration stance and the fact that fewer Venezuelans can afford the airfare.
From Mexico to Argentina, immigration agencies are reporting skyrocketing numbers of Venezuelan arrivals, doubling and even tripling the total for previous years.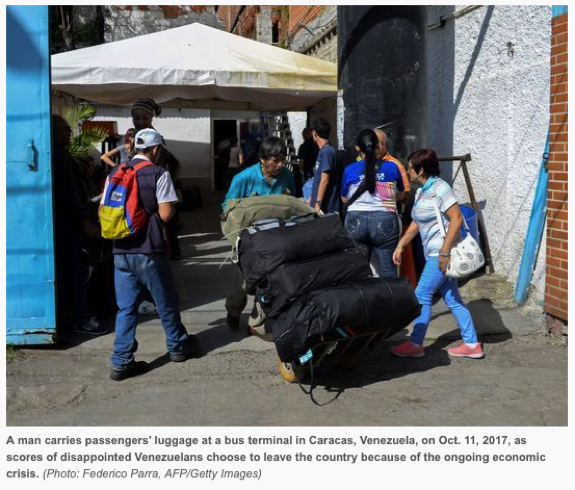 The Sequieras have been in Lima just four days, after a grueling six-day bus trip from their native Valencia, Venezuela's third-largest city. They rented a small room in a gritty eastern suburb and are now looking to start a new life in Peru.
The Sequieras became desperate as their wages became increasingly worthless — Andrea's pay as a human resources coordinator and her husband's at Empresas Polar, Venezuela's largest food and beverage company. "The worst thing is not being able to feed him," she said nodding toward their son.
The final straw came when a tire on their car ruptured beyond repair and they couldn't find a replacement, making the vehicle useless — in the nation with the world's largest proven oil reserves. Then the couple spent five days searching in vain for an antibiotic to treat a boil on young Fabian's arm.
Peru introduced a special temporary visa in February to address the growing humanitarian crisis in Venezuela. Nearly 30,000 Venezuelans have applied so far for the visa, which includes a temporary work permit.
The exodus from Venezuela has caused tension in some Latin American countries. In Panama, the flood of citizens from the much larger neighbor now competing for jobs has stoked nationalistic sentiment, said Harold Trinkunas, an international security expert at Stanford University who grew up in Venezuela. Panama responded by tightening visa requirements.
Other countries have coped better, particularly Colombia, which has called on its extensive refugee system, originally created to help those displaced from its civil war that recently ended.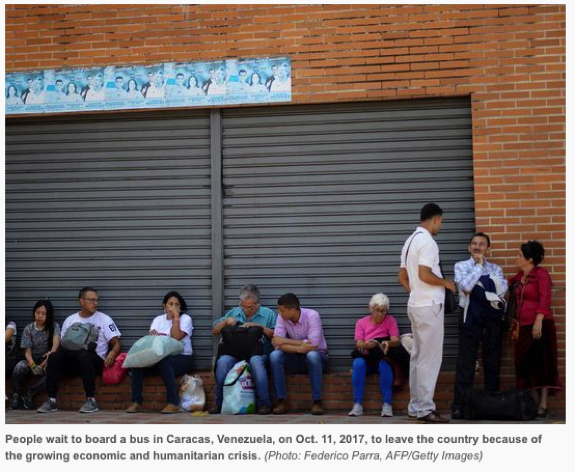 Another change is that most Venezuelan immigrants are now simply looking to survive, instead of wanting to send money back home to support family members, said Garrinzon González, who runs the Venezuelan Union in Peru, a self-help group for immigrants in Lima that has nearly 20,000 Facebook followers.
"There's nothing to buy in the shops in Venezuela now anyway," he said. "Here you can have a roof over your head and stable work very quickly after you arrive."
The Venezuelan diaspora is estimated to be about 1.1 million — more than 4% of the population — although the country long ago stopped publishing official numbers. Many hope to return to Venezuela and help their homeland recover once there is a political transition. They don't know when that might happen, and the longer they stay abroad, the more they put down roots.

"I want to go back and help lift my country up again, but I am at an age where I want to be established and have a family," said Patricia Acosta, 38, an MBA who arrived in Peru in April and now consults for the Spanish telecom giant Telefónica. "This really hurts. Venezuelans don't have a culture of emigration. The expectation is that grandparents will see their grandkids growing up."
That may hinder Venezuela's recovery, because most emigrants are university-educated professionals who play a vital role in the economy. "Venezuela's brain drain is a brain gain for its neighbors," Trinkunas said.
The Sequieras are not even thinking that far ahead. Their priority is to sort out their papers, find work, rent an apartment and get Fabian back to school as quickly as possible.
"We want to make friends and have a good life here," Andrea Sequiera said. "We would like to go back, but right now we are focused on just rebuilding our lives."