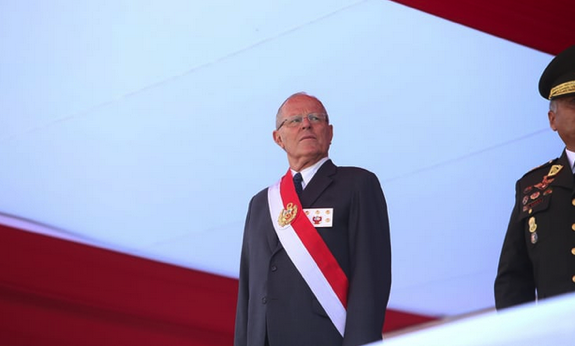 (above) Pedro Pablo Kuczynski attends a ceremony in Lima, Peru on 14 December 2017. Photograph: HANDOUT/Reuters
Peruvian officials begin impeachment process against president Kuczynski
December 22, 2017 - The Guardian
Representatives of most political parties agree to initiate proceedings to force out the president, who is caught up in a wide-ranging corruption scandal
Dan Collyns in Lima
Legislators in Peru have begun impeachment proceedings against Pedro Pablo Kuczynski, who is accused of failing to disclose decade-old payments from the Brazilian construction firm Odebrecht, which has been embroiled in Latin America's biggest corruption scandal.
Representatives of most political parties agreed on Friday to initiate proceedings to force out the president, who has denied any wrongdoing and rejected calls to stand down.
Kuczynski, 79, is the latest high-ranking politician to be caught up in the wide-ranging scandal, a vast web of political and corporate corruption which began in Brazil and has spread across 12 countries in Latin America. Odebrecht admitted paying some $800m in bribes across the region in 2016 plea bargain with the US justice department.
"I'm not running and I'm not hiding because I have no reason to," Kuczynski said in a defiant address to the nation just before midnight on Thursday. "I'm not going to abdicate my honor, my values or my responsibilities as president of all Peruvians."
Flanked by his cabinet, the former World Bank official pledged to produce his personal banking records. He denied allegations of a conflict of interest, saying he did not have a management role in Westfield Capital, a US-based consulting firm, between 2004 and 2007, when it received $782,000 from consortiums led by Odebrecht.
During much of the time he served as finance and prime minister in the government of Alejandro Toledo (2001-2006). He said the payments were for contracts signed by his business partner.
Kuczynski's impassioned address ended a 24-hour period of political turbulence that started on Wednesday when opposition lawmakers presented documents provided by Odebrecht showing payments to Westfield as well as $4m to another firm, First Capital, owned by the same business partner.
Kuczynski decried "systematic corruption" which threatened his government and the democratic order. He concluded "it cost us a lot to recover this democracy. Let's not lose it again", in what seemed to be a veiled reference to the authoritarian government of jailed former president Alberto Fujimori (1990-2000) – whose daughter Keiko Fujimori leads Fuerza Popular, the majority opposition party, which is leading the push for to impeach him.
Kuczsynki's defiant stance, however, has failed to convince even those who supported him in the 2016 election campaign in which he vowed to fight corruption and streamline the economy
Gustavo Gorriti, a Peruvian journalist investigating the Odebrecht scandal, said: "The president has worn down the truth repeatedly."
"The information indicates there were consultancies and services for Odebrecht during many years and for a large amount of money, almost $5m," he said. "At least one of those payments was made when he was a government minister," he adds.
Accusations of corruption have tainted the last three presidents of Peru. Toledo, who governed Peru from 2001 to 2006, is in the United States and is fighting extradition to Peru on charges he received $20m in bribes from Odebrecht.
In July, former Peruvian president Ollanta Humala and his wife Nadine Heredia were put into pre-trial detention pending the preparation of money laundering charges linked to campaign donations made by the company.
The former president Alan Garcia is also under investigation for receiving bribes along with the main opposition leader Fujimori and the former mayor of Lima, Susana Villaran.