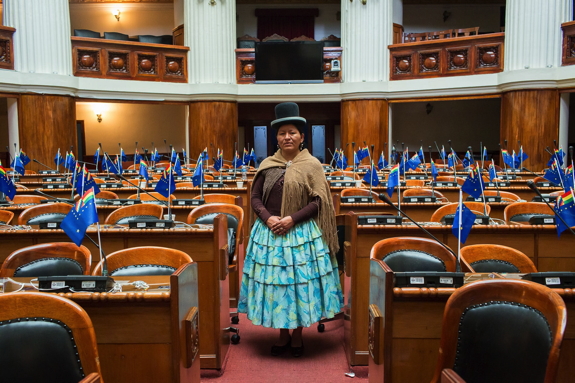 The rise of Bolivia's indigenous 'cholitas' – in pictures
February 22, 2018 - The Guardian
Eduardo Leal
As recently as 10 years ago, Bolivia's indigenous Aymara and Quechua women were socially ostracised and systematically marginalised. Known as 'cholitas', these women, recognisable by their wide skirts, braided hair and bowler hats, were banned from using public transport and entering certain public spaces. Their career opportunities were severely limited. While these women have been organising and advocating their civil rights since at least the 1960s, their movement was invigorated by Evo Morales' election as Bolivia's first indigenous president in 2006.
In Cholita's Rise, the photographer Eduardo Leal has created an exhibition of work that portrays their accomplishments and celebrates their success while also looking to inspire others


Bertha Acarapi looks out over the Bolivian capital, La Paz, from the backyard of ATB Television studios in the adjacent city of El Alto. Acarapi is a news anchor, the second cholita to work in television in Bolivia. The opportunity to work in media came after she won the Cholita Alteña, a pageant contest. Acarapi has a Masters in public management and between 2000 and 2005 she served as alderwoman of the El Alto municipality

Alderwoman Reveca Cruz Sangali and Mayor Soledad Chapeton at an asphalt plant during its inauguration in El Alto. Sangali is the president of El Alto's infrastructure commission. Before she entered politics, she sold merchandise on the streets to sustain six children and an abusive partner. After 15 years of ill-treatment and abuse, she left the house with her children and restarted her life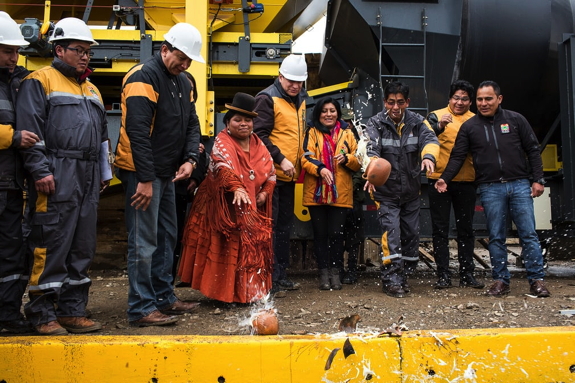 Remedios Loza in her office at Radio Andina in La Paz. She is regarded as a pioneer in the advancement of cholitas in Bolivia. In 1962 she was the first cholita to have a radio programme, called Sabor a Tierra, where she gave voice to the indigenous people. In 1989, she became the first indigenous women to have a seat in the national parliament, and in 1997 she became the first woman to run for the presidency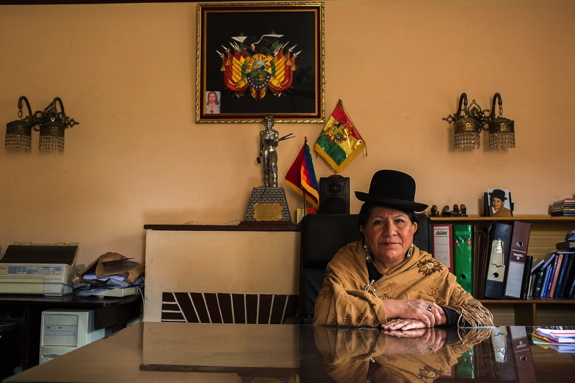 Congresswoman Cristina Choque Paxi in Bolivia's national parliament in La Paz. She says she heard too many times that women could not be in high office, so decided to prove those people wrong. She was forced to leave university for financial reasons, so started to focus on her community. In 2014 she ran for a seat in parliament, and won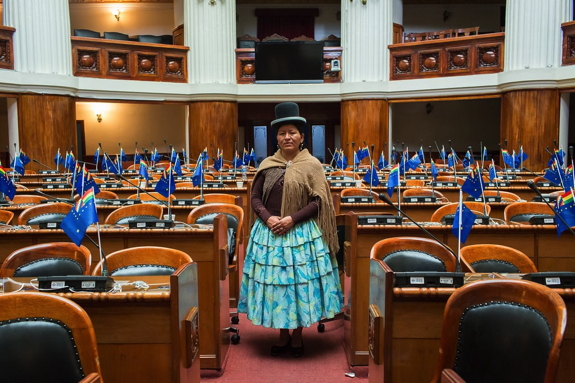 Sonia Siñani interviews Sotero Ajacopa, the indigenous chief of the Ingavi province during the Tupac Katari Indigenous Congress in El Alto. Siñani is a television and radio journalist who broadcasts in Aymara, one of Bolivia's indigenous languages. On her radio show at San Gabriel station, she teaches the language to listeners for an hour a day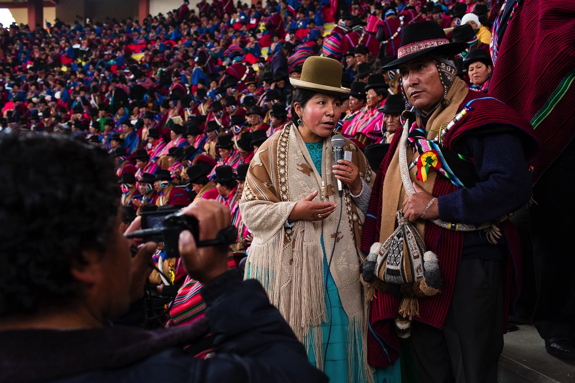 Yolanda Mamani Mamani, 30, at Deseo radio station in La Paz. A feminist activist, she started to work when she was nine, first as a babysitter and then as a cleaner. She wished to study but says her bosses never gave her a chance to. At 18, she became part of the Cleaners Association and started a partnership with the feminist association Mujeres Creando, where became the producer of a radio show in defence of the rights and against the abuses and discrimination of the cleaners of Bolivia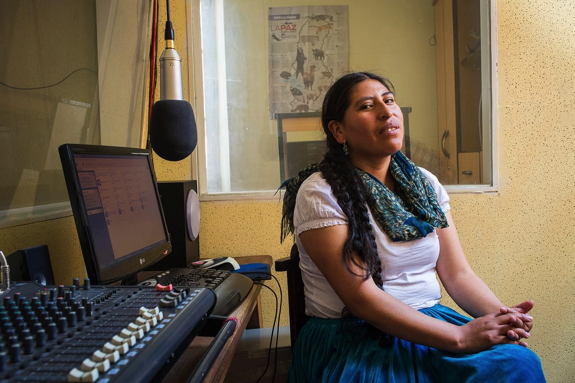 Diana Málaga prepares to leave her clothing shop in La Paz. Málaga is the first transsexual cholita in Bolivia. She decided to be a cholita because her grandmother was one and she felt the tradition had to kept alive in the family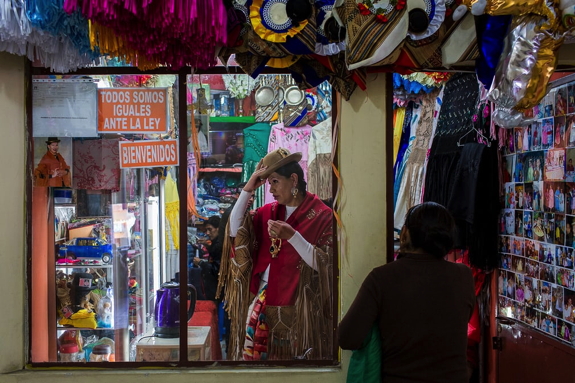 Prof Celia Laura in her classroom in San Calixto private school in La Paz. Since 2013, Bolivia students have had to learn three languages: Spanish, English and one of the native languages. Laura was the first indigenous woman in the country to become a teacher in a private school. She teaches Aymara. Cholitas and their daughters were not allowed to study in private schools and to study in public schools they had to wear western clothes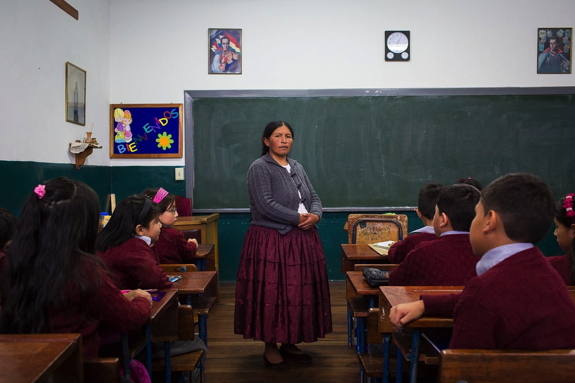 Elizabeth Ramos, 21, has her work checked by Prof Zénon Quispe during a class for her history degree at El Alto Public University. Ramos is the only cholita taking the degree. She is so admired by her colleagues that she was chosen as course representative. She says she has sometimes faced discrimination for being an indigenous woman. One of the last times she went to La Paz she was told that cholitas should have their own sidewalks so they do not disturb 'normal' people. After finishing her degree she wants to translate her ancestors' history texts and publish them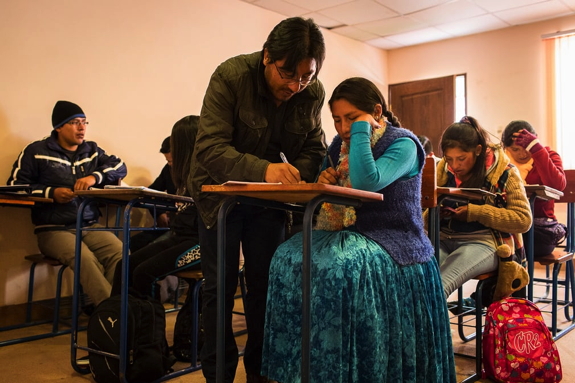 Catalina Tola Silvera fixes furniture in her factory in El Alto. Silvera's business employs more than 50 people and includes six retail stores. Nowadays she mainly oversees the work of her employees, but she cannot help putting her hands to work if something is not exactly as she wishes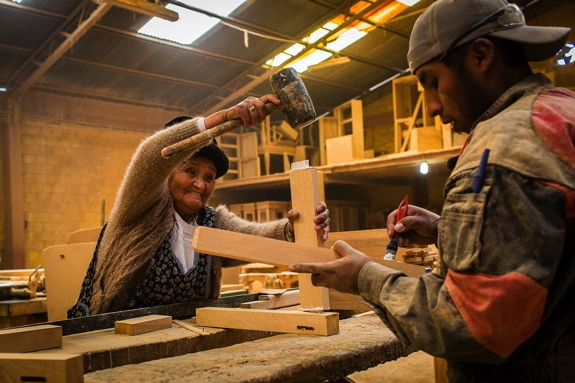 Celia Ramos, 34, walking with her daughter after a ballet class in La Paz. Celia has been working as a cleaner in the same house since she was 14 years old. She says that her boss has given her a life that she would otherwise never have had by letting her study and offering her a more comfortable life than she could have imagined. But she dreams of bigger opportunities for her daughter and is doing everything possible to help her to succeed, by making her study dance ballet, learn chess and go to a good school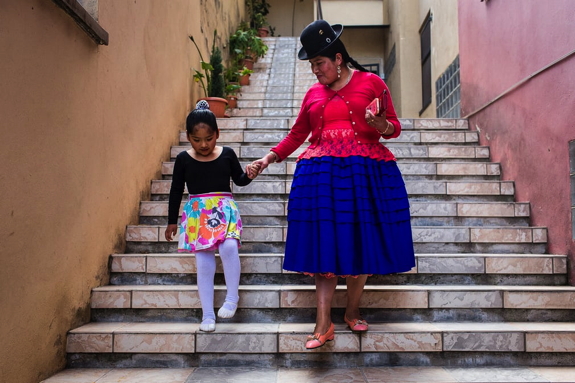 The La Paz bus driver Sara Quispe Mamani, 33, at the wheel of the bus she drives daily through the streets of La Paz. Mamani is the second cholita to drive a public bus in La Paz. She started out driving small vans with passengers as a way to make money to feed her children after she separated from her partner. Her dream is to become an international truck driver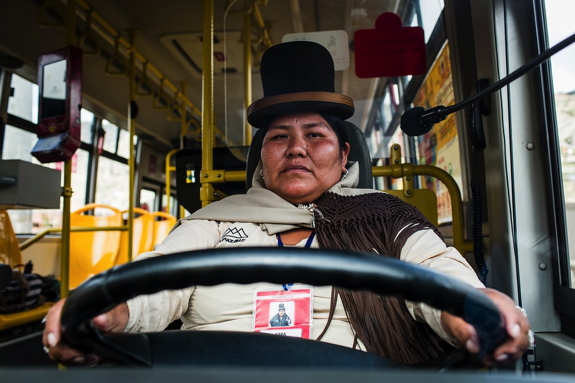 Estela Loyaza, 22, right, talks with A Quispe, a cholita colleague, before they start their shift as traffic wardens in El Alto. Estella is one of 15 cholita traffic wardens in the city. Since 2013 the municipality started hiring cholitas to control the chaotic traffic. According to the director, Fernando Flores, they have the right character for the job. Loyaza loves her job, especially when people congratulate her for representing cholitas in such a demanding role
Photograph: Eduardo Leal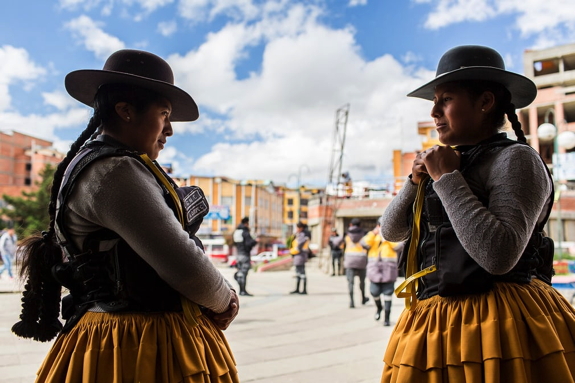 Silvina La Poderosa jumps from a corner of the ring to land on her opponent, Reyna Torres, during a promotional wrestling match fight in Senkata, El Alto. Indigenous women were invited to take part in the sport to bring back audiences after years of decline. However, the promoters took advantage of the women by keeping most of the money, until recently when the they decided to form their own association to organise wrestling events.


Susana Condori, 55, recording a music video for the Elagro band in La Paz. Condori is an actor and has been in movies, documentaries, commercials and music videos. Since she was a child she dreamed of acting, but being orphaned when she was nine made it seem impossible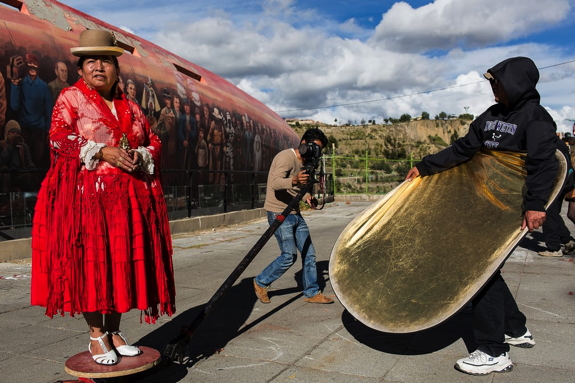 Rosario Aguilar lectures two fashion students about the quality of the Borsalino hats during a modelling session at Hotel Torino in La Paz. Aguilar started a company to promote the work of fashion designers that produce clothes for cholitas, but noticing the lack of professional models to wear the designs, she decided to create a modelling school for indigenous women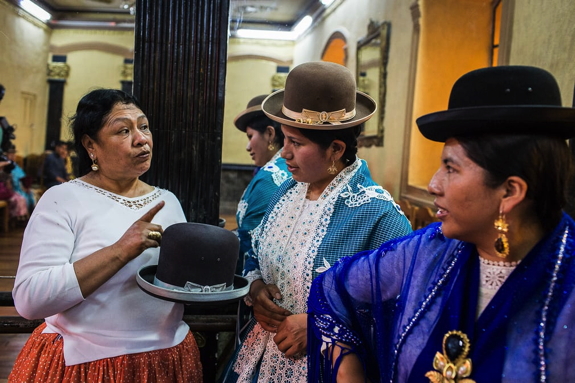 Four cholitas prepare backstage before modelling on the catwalk. They are presenting the work of local fashion designers in El Alto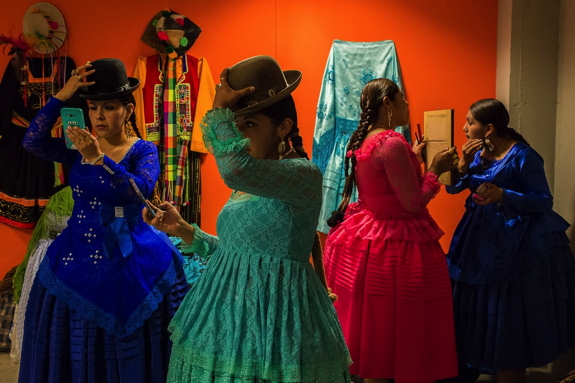 Thousands of cholitas gather during a social reception held by the Paco family in La Paz. Cholitas and their husbands spend thousands of pounds on parties and social gatherings where there is a constant supply of alcohol and food, with entertainment by local and international musicians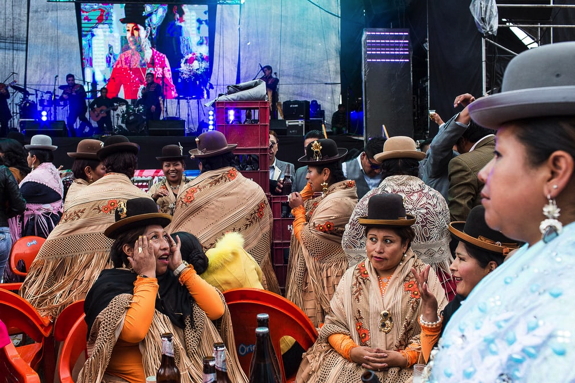 A cholita reads next to a news stand during the International Women's Day march in La Paz. Though in the last decade women, and especially indigenous women, have made enormous progress in Bolivia, they are still very far from being equal to their male counterparts. Issues such as domestic violence and lack of access to education still need to be tackled by the government, and by society in general