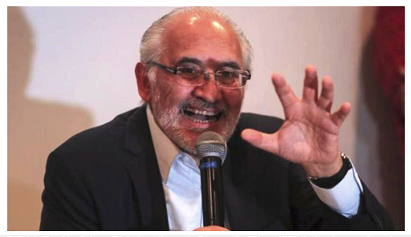 (above) Bolivia's Presidential candidate from the party Community Citizen (CC) Carlos de mesa is under investigation for corruption. | Photo: EFE
Bolivia: Main Opposition Presidential Hopeful Probed for Graft
May 8, 2019 - Original article: teleSUR
Bolivia's presidential candidate Carlos de Mesa is being investigated for alleged corruption due to 15 unusual bank transactions.
The Anti-corruption Specialized Prosecutor's Office of Bolivia is investigating 15 unusual transactions in the bank accounts of Carlos de Mesa, a presidential candidate from the party Community Citizen (CC).
The transactions took place between 2007 and 2009 allegedly for illegal enrichment.
Prosecutor Makerlyn Zambrana said they are considered as crimes of public order. Each of the transactions is being investigated separately.
Gonzalo Medina former director of the Special Force to Fight Crime in Santa Cruz has been called as a witness. He is accused of committing crimes related to controlled substances, criminal association, and conspiracy; as well as maintaining links with the drug trafficker, Pedro Montenegro, who is being pursued by Brazil.
One of the suspicious transactions in Mesa's account was a deposit of US$30,000 on June 16, 2009, by Medina as payment for the purchase of an apartment that belonged to Mesa's parents in the city of La Paz.
The Financial Investigation Unit reported that Mesa received several payments of US$3,000 to US$5,000, and of 50,000 Bolivians (US$7,240), also 46,000 Bolivians (US$6,661) on different dates.
The Public Prosecutor requested the banks track the transactions to their origins to see whether they are paid for illicit activities.
Medina's former partner Blanca Hinojosa is scheduled to give a statement to the Public Prosecutor's Office Wednesday afternoon.
The prosecutor clarified that in the Camargo Correa-Odebrecht bribe case, where Mesa is also involved, bank transactions are investigated separately and up to now eight people have given statements, including the presidential candidate.
The Plurinational Legislative Assembly (ALP) created a commission in 2018 that investigated for more than five months of payments or bribes to Bolivian officials for favoring the Brazilian company Camargo-Correa.
Susana Rivero lawmaker from the Movement Toward Socialism (MAS) told ALP that Mesa was involved in favoring Camargo-Correa for the construction of the Robore-Puerto Suarez Highway and gave the tender to them.
Carlos Mesa is currently polling second for Bolivia's presidential elections this October. He is also a former president and vice-president during the neoliberal period when his administration privatized the country's natural gas resources, which were later re-nationalized under leftist President Evo Morales in 2006.