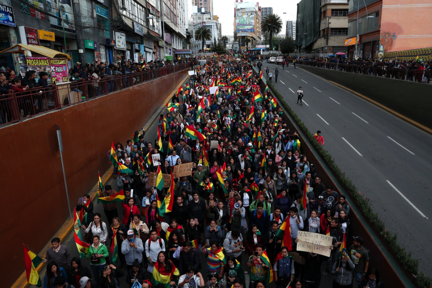 (above) Protesters in La Paz demanding a second-round presidential election on Thursday. Credit... Juan Karita/Associated Press
Bolivian Court Orders Partial Presidential Revote
October 24, 2019 - Original article: New York Times
By The Associated Press
LA PAZ, Bolivia — An elections court threw a new wrinkle into Bolivia's bitterly disputed presidential election on Thursday, ordering a revote in four places because irregularities.
The ruling from the Supreme Electoral Court further delayed final results for the election, which was held last Sunday.
Early returns suggests that President Evo Morales did not secure enough votes to avoid a runoff, but in the days that followed, he insisted that he had.
Supporters of his opponent, Carlos Mesa, have accused the government of rigging the election results, and authorities from outside the country have also raised concerns.
With protesters taking to the streets, the European Union has backed a recommendation by the Organization of American States that a runoff election be held. Mr. Morales and Mr., Mesa finished first and second among nine candidates in the election.
In its decision on Thursday, the court said voting must be repeated at four places in the Beni region. It said the vote would take place on Nov. 3.