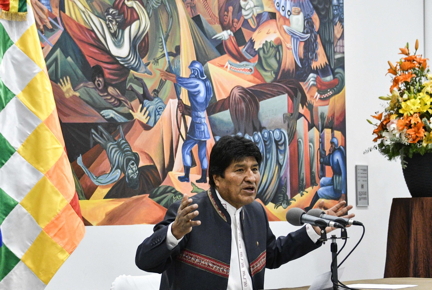 Morales Averts Runoff in Bolivia, Officials Say, but Anger and Doubt Remain
October 25, 2019 - Original article: New York Times
The election board's finding incensed the opposition and raised international skepticism about a race dogged by allegations of fraud.
By Ernesto Londoño
Bolivia's electoral tribunal announced late Friday that President Evo Morales had won this week's presidential election by a margin large enough to avoid a runoff, a finding that incensed the opposition and raised international doubts about a race that has been dogged by allegations of fraud.
At the end of a tumultuous week during which thousands of Bolivians protested what they saw as a power grab by Mr. Morales, election officials said the president had received 47 percent of Sunday's vote, beating his main rival, Carlos Mesa, by slightly more than 10 percentage points. That was the margin the incumbent needed to avoid a runoff.
The president of the electoral tribunal acknowledged that the results would be received with skepticism by many at home and abroad.
"We are aware of the critical situation we find ourselves in," said the tribunal's president, María Eugenia Choque. She added that election officials were willing to have their work audited. "With my heart in my hand," she said, "we are open to any audit."
Mr. Mesa, a former president, and other opposition leaders did not recognize the results and asked their supporters to remain on the streets in protest.
"We are in a crucial moment in history," Mr. Mesa said in a video sent to journalists Thursday night, in which he anticipated the tribunal would declare Mr. Morales the outright victor.
"What has happened is something we all expected," he said. "Truth and justice is on our side."
This week, Mr. Mesa and his allies presented images of election forms that they said proved the governing party had committed irregularities — for instance by declaring more votes than eligible voters in some precincts.
On Friday night, thousands of chanting protesters flooded the streets of La Paz, many them surrounding the heavily guarded offices of the electoral tribunal. No violence was immediately reported, but the protesters stepped up their demands, calling not simply for a second round of voting but also now for Mr. Morales to step down. Around the city, people banged pots and pans in discontent.
Election observers from the Organization of American States have accused Mr. Morales's party of improperly using state resources during the campaign. They also expressed skepticism about the integrity of the vote count, saying that the only way to salvage the credibility of the election was to convene a second round.
The Brazilian Foreign Ministry tweeted late Friday that it would not recognize the results for now and would instead watch for a full audit of the voting and follow Bolivia's negotiations with the O.A.S.
The European Union, which provides millions of dollars in aid to Bolivia, has also called for a second round of voting, saying such a step would "restore trust and ensure the full respect of the democratic choice of the Bolivian people."
Bolivians have taken to the streets all week in protest. Security forces have barricaded a road to the presidential compound and lobbed tear gas at protesters, and local offices of the electoral tribunal have been set on fire.
Despite the unrest and uncertainty, Mr. Morales declared himself the victor on Thursday, a full day before the official tally was completed.
Questions about the vote counting first arose after initial results trickled out of the election tribunal in the hours after the polls closed on Sunday. These numbers suggested that Mr. Morales would fall short of the 10-point margin.
Then the vote-count announcements ground to a halt, and suspicions arose that Mr. Morales, the longest-sitting leader in Latin America — he has been in office since 2006 — was not ready to relinquish power.
He had already signaled as much by working assiduously to overturn constitutional term limits on the presidency in order to seek a fourth term in office.
Mr. Morales, Bolivia's first indigenous president, dismissed skepticism about the election as a form of "discrimination" by people who have long ignored the rights of indigenous people. He spent Friday as he usually does, traveling around the country to attend ribbon-cutting ceremonies for new infrastructure projects.
Mr. Morales has been widely credited with improving social and economic conditions, though many began to believe he was overstaying his welcome.
"If Evo Morales swears in for a fourth term in January, there will be a weight on his presidency," said Roberto Laserna, a sociologist in Cochabamba.
Many Bolivians who suspect the vote was rigged fear their country's institutions are being co-opted by the governing party in a manner that reminds them of Venezuela's descent into autocracy.
"We are repeating history, like Venezuela," Abel Peredo Guerrero, 27, a medical resident, said this week at a protest in downtown La Paz. "What we see is a government that wants to remain in power arbitrarily and that cannot stand."
Monica Machicao and Eric Nagourney contributed reporting.